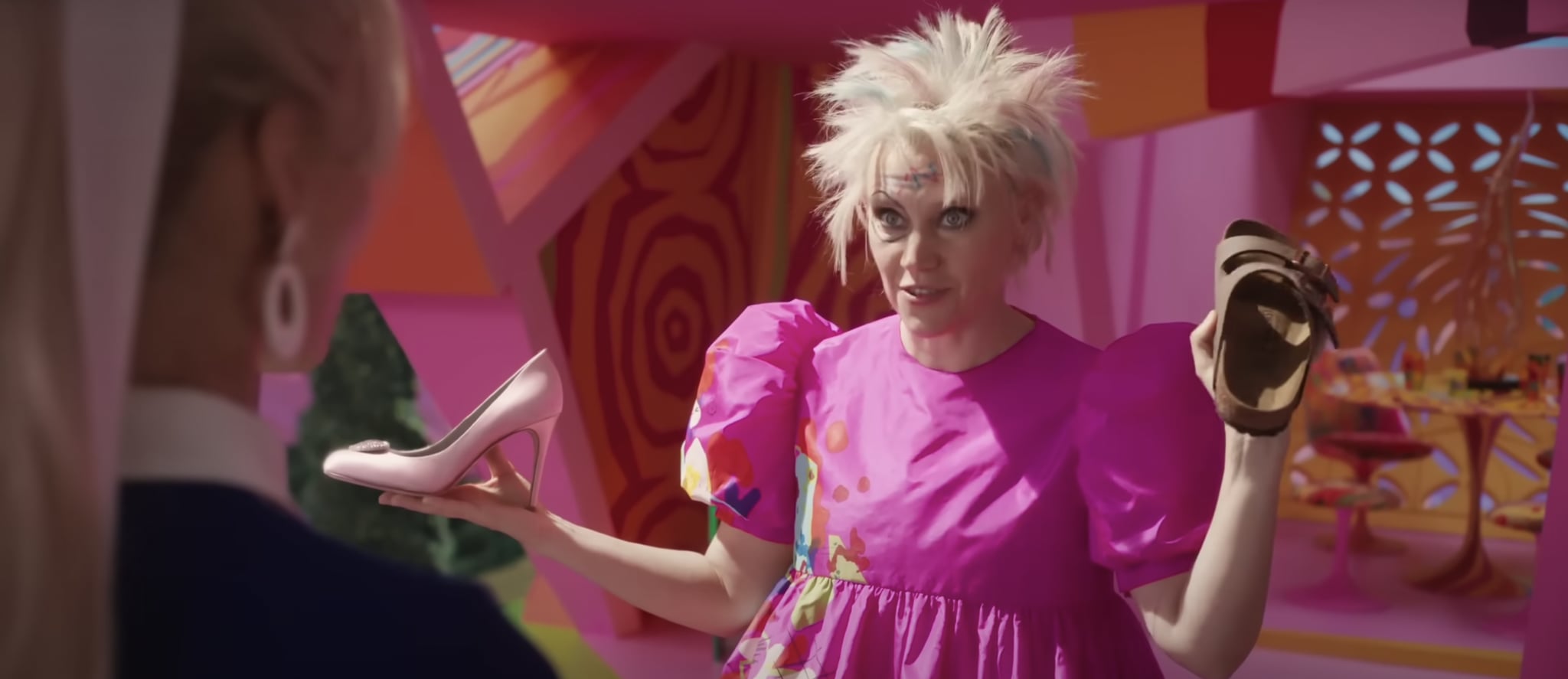 Image Source: YouTube user Warner Bros.
"Barbie" is shaping up to be the hottest movie of the summer. The full trailer was released on May 25 and has already given the Internet a number of instantly iconic moments to admire, from Barbie (Margot Robbie)'s "Matrix"-esque choice between a high heel and a Birkenstock to Ken (Ryan Gosling)'s exuberant mug shot. All adding hype to the already very highly anticipated film.
But the new trailer also features some less noticeable Easter eggs, too, that show just how much the movie's creative team — which includes the celebrated filmmaking duo Greta Gerwig and Noah Baumbach — paid attention to detail.
"Barbie" Easter Egg: Ruth and Barbara Handler
Near the end of the film preview, Barbie meets an old woman who tells her, "Humans get one ending. Ideas live forever." As TikToker Kirbie Johnson explained in a May 25 post, the old woman is Barbara Handler, who actually inspired the first Barbie when she was just a young girl. Barbara's mother, Ruth Handler, invented the original Barbie doll in 1959, per The New York Times, and named her creation after her daughter. Today, Barbara is 82, but her feature in the "Barbie" trailer is a moving tribute to the doll's origins.
"Barbie" Easter Egg: "The Wizard of Oz"
"Barbie"'s second teaser, released on April 10, also features some other pop culture references and symbols. Many fans quickly noticed that the clip was chock-full of references to "The Wizard of Oz": Movie posters of the 1939 film's characters frequently pop up in the background, and the film is even playing in the background of one frame. At one point, Robbie is also spotted wearing a checkered dress that's reminiscent of Dorothy's classic blue frock.
Viewers have also inferred that "Barbie"'s plot might take some notes from "The Wizard of Oz." We already know that the story involves Barbie (and Ken) leaving Barbie Land for the real world. If "Barbie" finds its protagonist finally meeting with the creator of Barbie Land — or perhaps the company's CEO — then it's easy to see how her disillusionment with that figure might mirror Dorothy's same disappointment when she learned who the Wizard really was.
"Barbie" Easter Egg: "2001: A Space Odyssey"
"Barbie"'s first teaser, released on Dec. 16, 2022, also directly references another classic film. That teaser parodies the opening of Stanley Kubrick's 1968 movie "2001: A Space Odyssey," except instead of featuring apes in front of a black monolith as "2001"'s first frames do, the "Barbie" trailer sees Barbie stepping out onto a barren landscape as young girls look on.
"2001: A Space Odyssey" is famously existential and allegorical, but it essentially tells a highly impressionistic story about the origins of humanity and the extraterrestrial forces who, in the film, seem to have led humans toward consciousness. While Kubrick always resisted definitive analyses of his sci-fi epic, in 1972, he told Rolling Stone that "on the deepest psychological level the film's plot symbolizes the search for God, and it finally postulates what is little less than a scientific definition of God."
While that doesn't immediately align with what we know of "Barbie," which has been celebrated for the fashion trend it's inspired so far, Gerwig did recently bring religious themes into a May conversation with Vogue. "Ken was invented after Barbie, to burnish Barbie's position in our eyes and in the world," Gerwig said. "That kind of creation myth is the opposite of the creation myth in Genesis."
Could "Barbie" be an attempt to mirror or rewrite Kubrick's reflections on the origins of humanity, possibly through a feminist lens? Or perhaps a combination of "2001: A Space Odyssey" and "The Matrix," proposing that we all run on pre-programmed ideas about how to live until we become conscious of them and leave them behind. Or maybe it'll just parody all those movies with Barbie ending up back where she started, just more content to be one of many Barbies. Anything is possible at this point!
Of course, we won't really know what the highly lauded "Barbie" script has in store for us until the movie premieres on July 21. Until then, though, fans are definitely free to overanalyze trailers, dress in Barbiecore fashion, make custom poster selfies, and bump all the artists on the "Barbie" soundtrack to their hearts' content.