Billie Eilish is sick of people judging the way she dresses!
As fans most likely know, the 21-year-old singer's style has changed a lot over the years. She's gone from baggy and oversized clothing to more glamorous and fitted outfits (see above insets). While there's no doubt many fans have welcomed her fashion evolution with open arms, others apparently haven't been as accepting of it. And apparently, those people have been very vocal about their criticisms of her style now – to the point where Billie has hopped on social media to go OFF on them for their negative remarks!
Related: Billie Reveals Tattoo She Swore She'd 'Never' Show After Breakup!
The Bad Guy artist took to Instagram Stories on Saturday to address the critics who've been calling her a "sellout" for wearing more "feminine" and "fitting" clothing. She began her lengthy statement by writing:
"letter to some comments I be seeing sometimes. I spent the first five years of my career getting absolutely OBLITERATED by you fools for being boyish and dressing how I did and constantly being told I'd be hotter if I acted like a woman. And now when I feel comfortable enough to wear anything remotely feminine or fitting, I CHANGED and am a sellout…and 'what happened to her.' oMg iT's nOt thE sAmE biLlie she's just like the rest, bla blah. You guys are true idiots. LOL. I can be both you f**king bozos. LET WOMEN EXIST!"
Ugh, that is so frustrating! She went on to point out a "fun fact," saying:
"did you know women are multifaceted!!!!!??? Shocking right?? believe it or not, women can be interested in multiple things."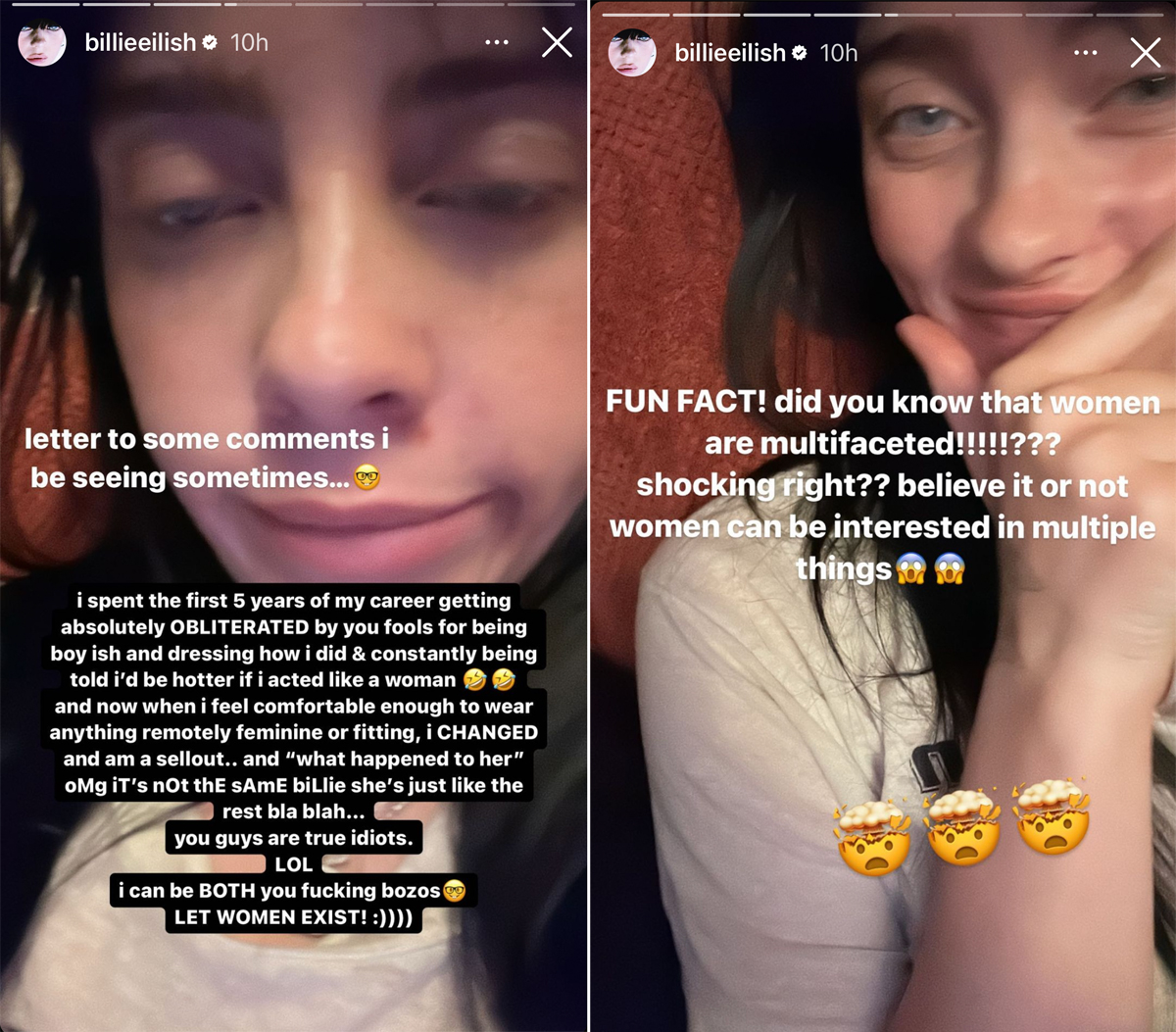 And there's more! Billie then made it clear that "femininity does not equal weakness," adding:
"Omg?! Insane right? Who knew? And also totally unheard of and insane to want to express yourself differently at different times."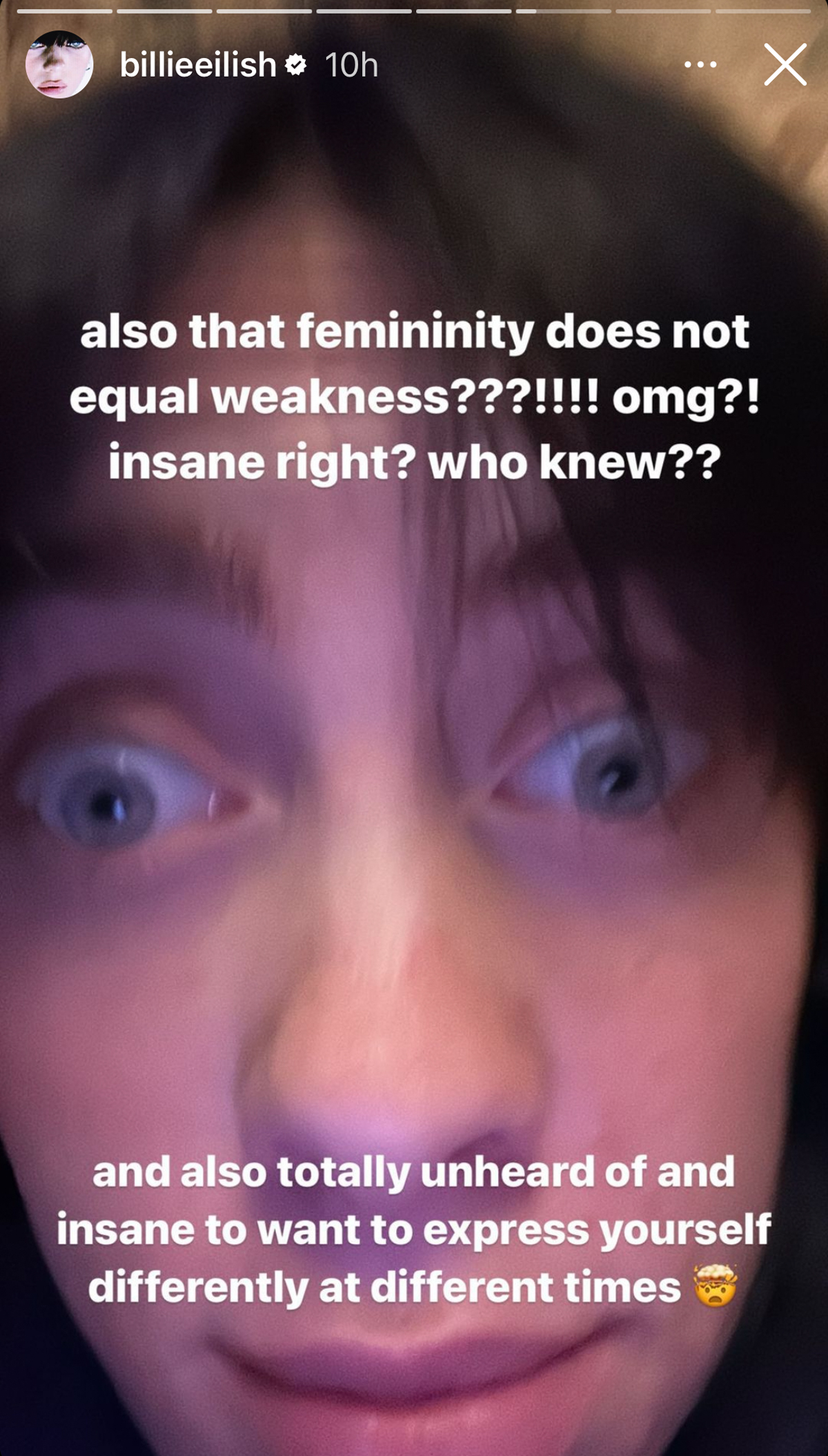 Exactly! But for those who still didn't understand her message, she told the haters exactly what they could go and do: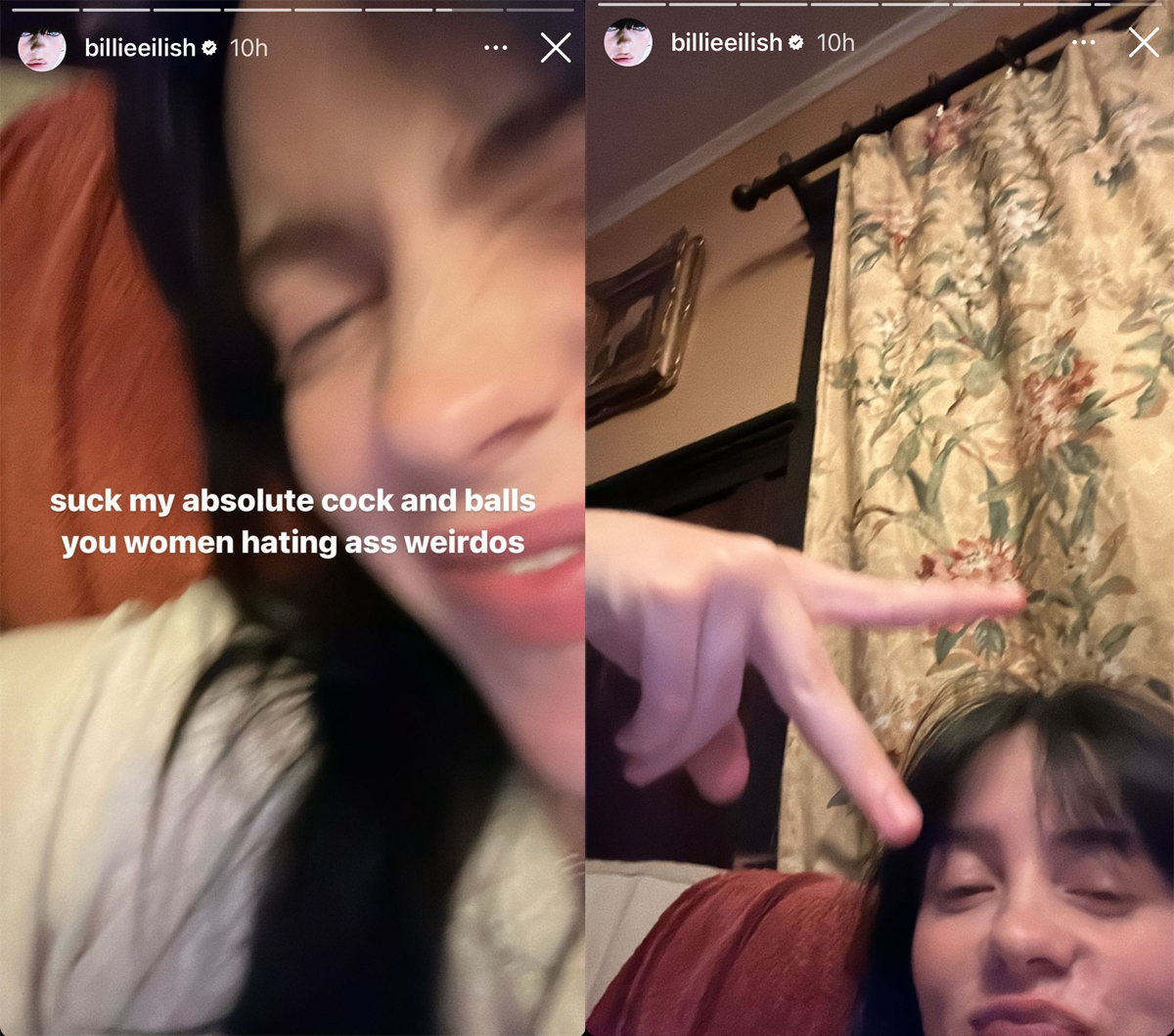 DAMN!!!
Clearly, Billie was not too happy about the comments she's been getting! And kisten, it is completely normal for a person's style to change as they grow older. There's also nothing wrong with someone playing around with their fashion since it's meant to be fun! Reactions to Billie's heated posts, Perezcious readers? Let us know in the comments below.
[Image via Billie Eilish/Instagram, WENN/Avalon, MEGA/WENN]