After almost five years of delivering the thrilling story of a broken family trying to find the next head of their media conglomerate, Succession is airing its final episode this Sunday. While fans might be disappointed to see their favorite show come to an end, the story is reaching its natural conclusion, and the studio behind it warns audiences not to expect any follow-up to the Roys' story. During an interview with Deadline, Francesca Orci, the Head of Drama at HBO, dismissed the rumors regarding potential Succession spin-offs, stating that there weren't any in development, and that a fifth season for the main show was also completely out of the question.
Even the cast of the show was disappointed to learn that the current season of the show would be its final one, with Jeremy Strong stating that the studio didn't even confirm it until they were already filming the episodes. After all, dragging the story past the argument this season presents would be dangerously close to running in circles, with the characters needing the stakes to be raised in order to move forward. Kendall's (Strong) addiction problem and violent tendencies turned out to be a problem for him and everyone around him during the early seasons of the series, but it looks like the character has actually grown.
The show began when Logan Roy (Brian Cox) suffered a light stroke, making him wonder about his inevitable death, and who would lead Waystar Royco after he was gone. His young children were all irresponsible, and no one could fill his shoes at first sight. Over the course of the seasons, Logan continued to manipulate his children to make them look for more power at the expense of their siblings, causing an internal conflict within the family that would only get more personal as time went on. Unfortunately for everyone, the time to decide who would lead the company came at a high price.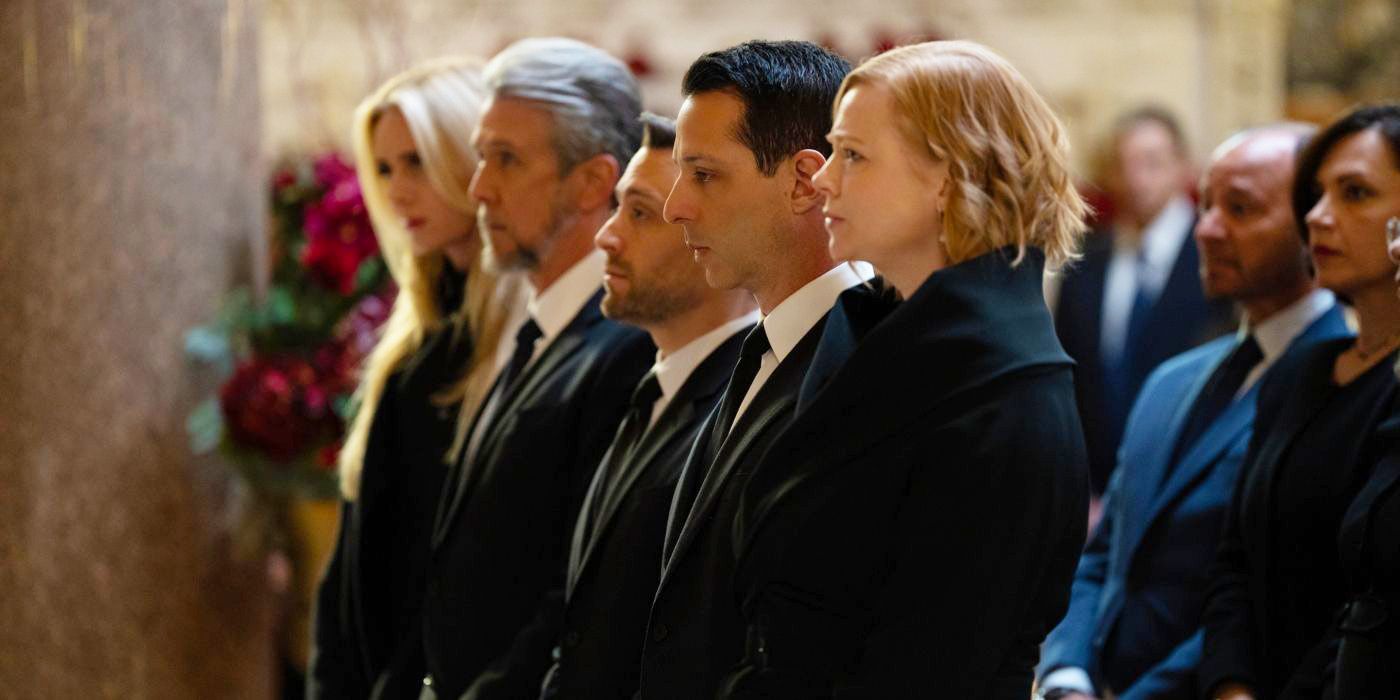 RELATED: 'Succession' Season 4: What the Hell Was in Connor's Eulogy for Logan?
The Death of an Icon
After having a heated argument with his children, Logan boarded a plane with Tom (Matthew Macfadyen) and the rest of the Waystar executive veterans. In the middle of the flight, he'd suffer an intense heart attack that took his life, and the only way to get the rest of the family to say goodbye to him was Tom making a phone call to Roman (Kieran Culkin), Kendall (Strong) and Shiv (Sarah Snook). The struggle for power the family dealt with for so long suddenly wasn't important, as they now had to prepare a funeral while confronting a hostile acquisition from Lukas Matsson (Alexander Skarsgård).
You can check out Collider's exclusive interview with Arian Moayed, who stars as Stewy in Succession, below: