There may still be five months left until Halloween, but NECA is already preparing for the spooky holiday with some scary merchandise. With the recent horror darlings Scream VI and Wednesday delighting and frightening audiences in equal measure over the past year, the collectible company is turning Ghostface, Jenna Ortega, and Thing into ghoulish new Chia Pets. All three planters are available to pre-order now and are slated to arrive in October, just in time to grow for Halloween.
The first of the two Wednesday planters features Ortega's titular Addams daughter looking down at a planter adorned with the Nevermore Academy emblem with a black flower popping up in the middle. While you can't expect the hilarity of the usually black-clad Wednesday rocking a luscious green afro, it's a suitably macabre look for the character. Thing's planter, meanwhile, sees the spooky stitched-up disembodied hand standing in its own little meadow of grown chia. It'll pair well with the Wednesday planter considering Thing was a big help to her in solving the murder mystery at Nevermore.
Unlike Wednesday, Ghostface does get a bright green Bob Ross perm in the Scream planter, though it's apparently supposed to represent the killer's hood. Barring the odd chia cowl, it's a perfect statuette of Ghostface for collectors of all things Scream and, like all Chia Pets, can be reused indefinitely. All planters come with three plantings worth of seeds which promise full growth in one to two weeks. These collectibles also come in at a reasonable $19.99 each meaning breaking the bank isn't a requirement for a little spooky gardening.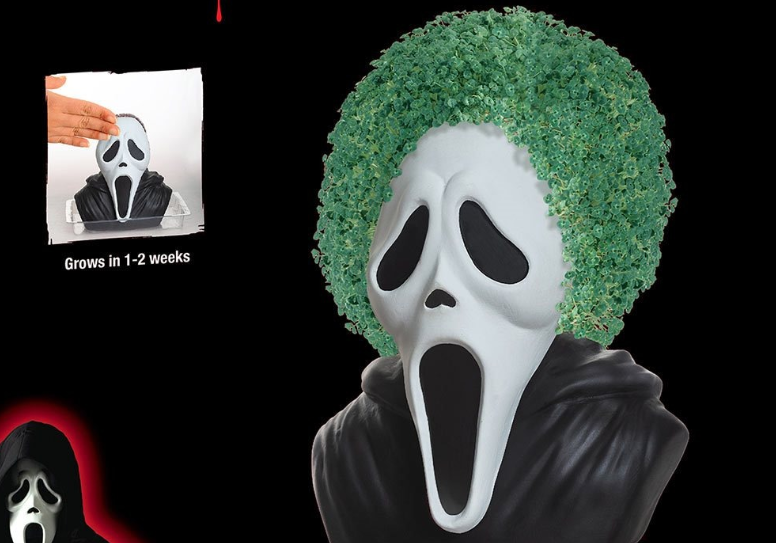 RELATED: The 'Scream' of the Sci-Fi Genre Is This Unexpected Movie
Wednesday and Scream 6 Mark Two of Horror's Biggest Recent Hits
Both Wednesday and Scream 6 took the world by storm with their release, elevating Ortega to pure super stardom in the process. Season 1 of the hit Netflix show managed to surpass even House of the Dragon as 2022's most-watched premiere. As one of Netflix's most-watched series ever, it's no surprise that it's been renewed for a second season meaning more dark mysteries for Wednesday to solve around Nevermore and the town of Jericho as a whole. Scream 6, meanwhile, saw Ortega rejoin the new Core Four including Melissa Barrera, Mason Gooding, and Jasmin Savoy Brown in the franchise's best outing at the domestic box office where the survivors aim to begin a new life away from Woodsboro. As always, Ghostface still haunts them in a bloody and brutal fashion making for a film that Collider's own Ross Bonaime praised for continuing to find ways to be original while still honoring the franchise's past.
The Wednesday and Scream Chia Pets are available to pre-order now exclusively through Entertainment Earth. Check out Collider's interview with Ortega for Scream 6 below.