The character of Spider-Man has provided limitless spin-offs and adaptations in both forms of live-action and animation. One of the most recent additions to this collection is the 2021 Disney Junior animated series Spidey and His Amazing Friends. The story follows a much younger Peter Parker who has teamed up with Gwen Stacy and Miles Morales to form a Spidey team similar to the recent popular blockbuster Spider-Man: Into the Spider-Verse. However, all three are children in this iteration. Together, they face many iconic villains from the Spider-Man comics and occasionally work alongside other iconic Marvel allies. The first two seasons and collection of shorts are all available to watch on Disney+. Make sure to swing through the following cast and character guide of Spidey and His Amazing Friends featuring the main friends and foes of the Spider trio.
RELATED: Here's How to Watch the 'Spider-Man' Movies in Order (Chronologically and by Release Date)
Benjamin Valic as Peter Parker/Spidey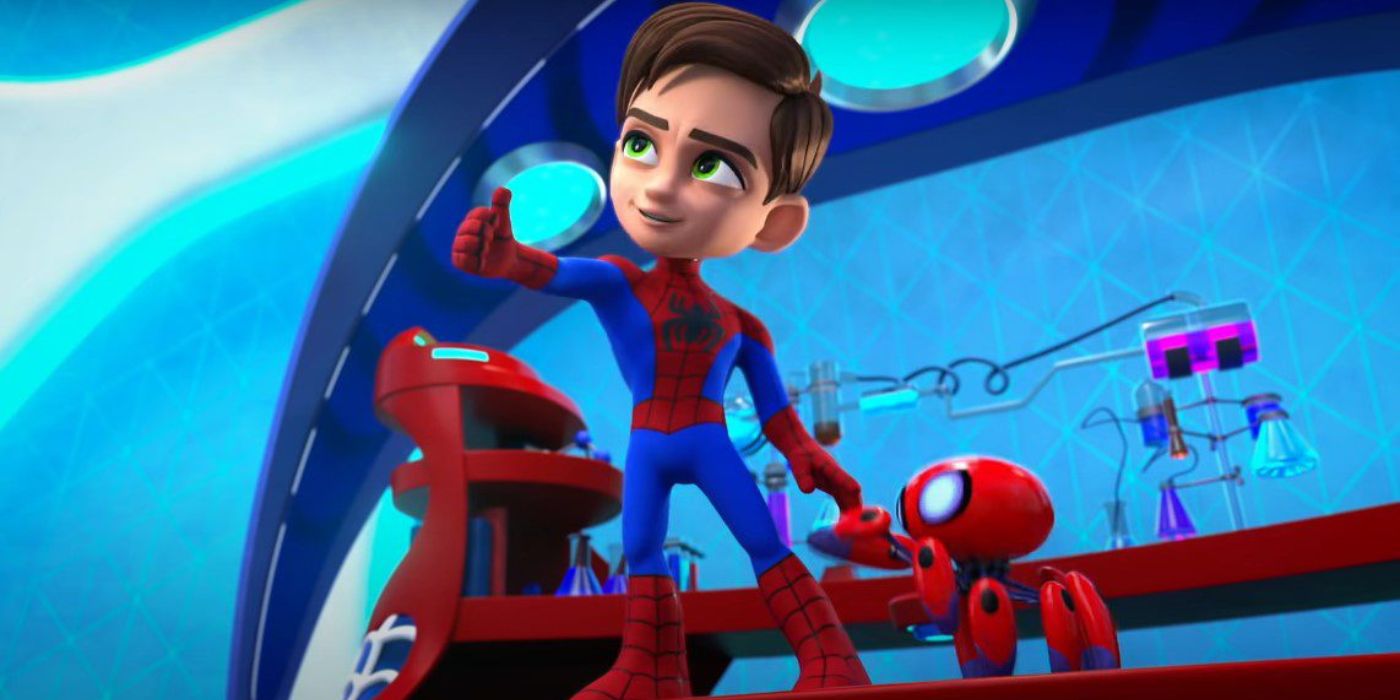 Peter Parker is New York's beloved Spider-Man or Spidey as he is nicknamed. Like past versions, he is an intelligent and inventive genius who creates gadgets like the supercomputer WEB-STER and the little Spider-bot sidekicks for himself and his teammates. He's a cat lover and a huge Iron Man and Black Panther fanboy. His anger sometimes causes him to lose focus on missions, but he's well aware that with great power comes great responsibility. Benjamin Valic is a child voice actor who notably voiced Baby Sonic in Sonic the Hedgehog and featured in Guillermo del Toro's Pinocchio.
Jakari Fraser as Miles Morales/Spin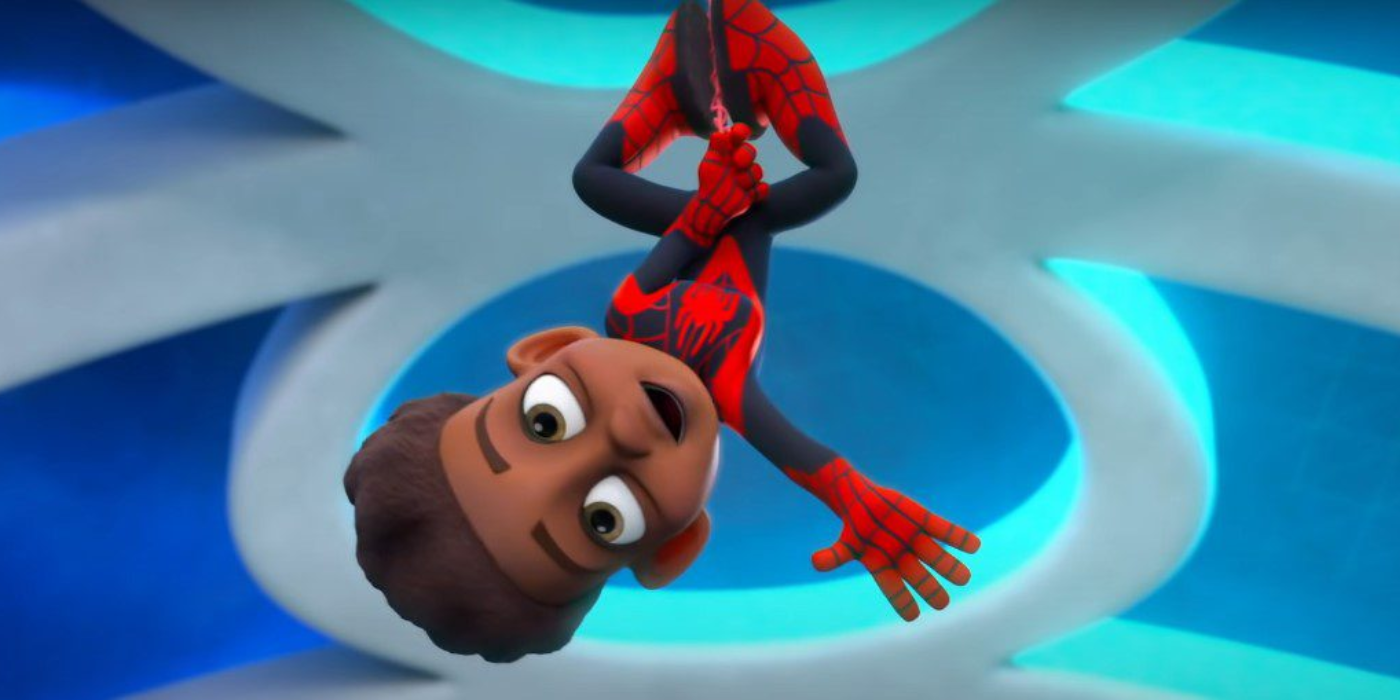 Miles Morales is Peter's best friend and another gifted hero with Spider-Man abilities who goes by the alias Spin (based on spiders' abilities to spin webs). He has dark, curly hair and is of Puerto Rican and Black background. He differs from Peter and Gwen by having the special invisibility ability and a black and red Spider suit. His Spider-bot is TWIST-E. Jakari Fraser is a child actor who has voiced in animated series like Blaze and the Monster Machines and Interrupting Chicken. He has also appeared in live-action projects like Abbott Elementary, Ben is Back, and Ant-Man and the Wasp: Quantumania.
Lily Sanfelippo as Gwen Stacy/Ghost Spider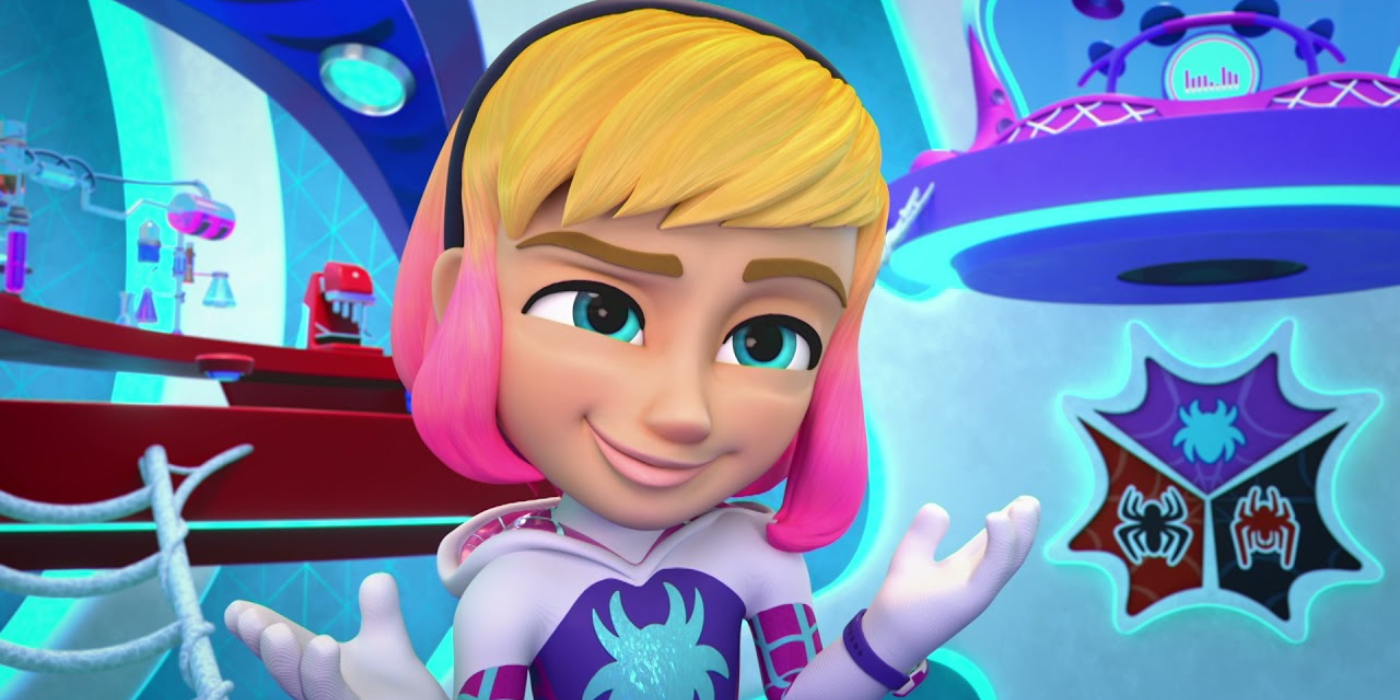 Gwen is another friend of Peter and Miles and operates under the Spidey alias of Ghost Spider. She has blonde hair with pink dyed tips. She dons a white and pink Spider suit and has the special ability to fly due to the wings on her suit. Gwen's Spider-bot is TWIST-E, and she tends to have a detective eye like her mother. Lily Sanfelippo is a teen actress who has voiced in other animated projects like Firebuds and Turning Red. She also appeared in episodes of Superstore and Young Sheldon.
Dee Bradley Baker as TRACE-E/TWIST-E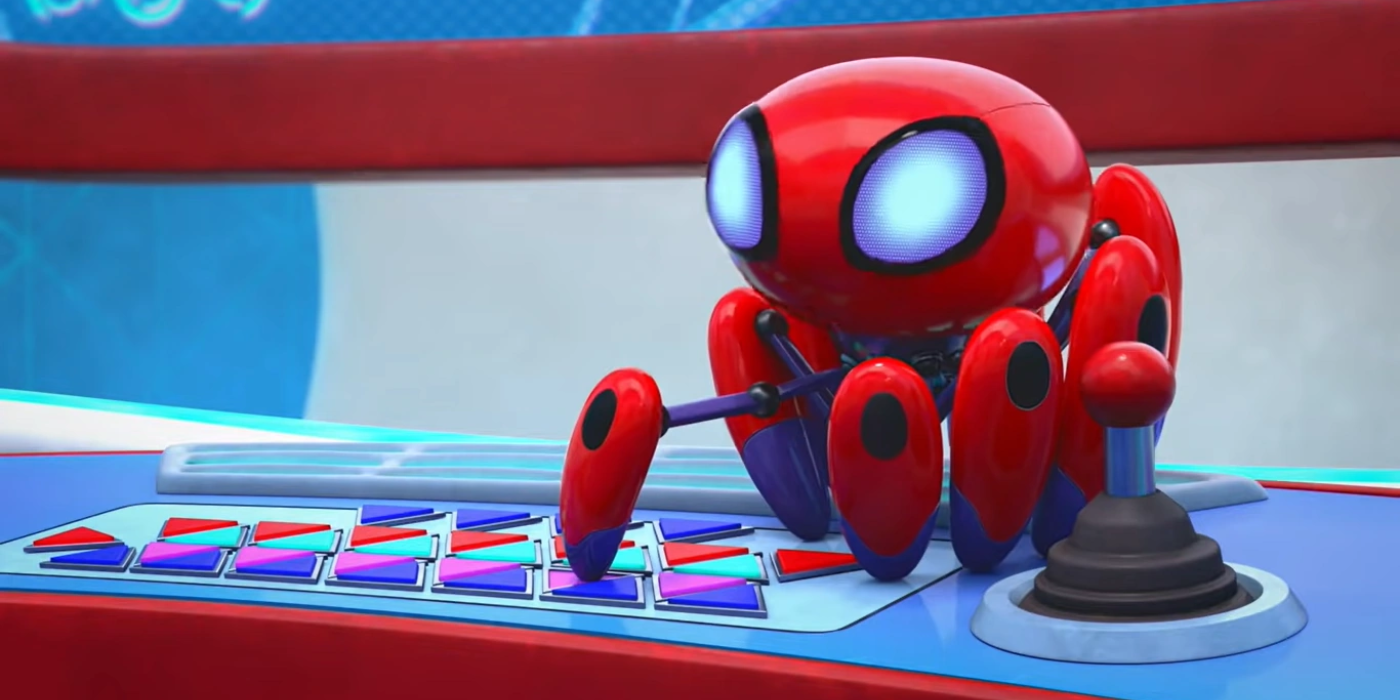 TRACE-E and TWIST-E are the Spider-bot sidekicks to Peter and Miles, respectively. They are little gadgets that Peter designed for all his friends. Dee Bradley Baker is a prolific voice actor who stars in animated series like American Dad!, Spongebob Squarepants and Avatar: The Last Airbender. He also voiced in big films like the original Space Jam, The Suicide Squad, and Shang-Chi: The Legend of the Ten Rings.
Melanie Minichino as Aunt May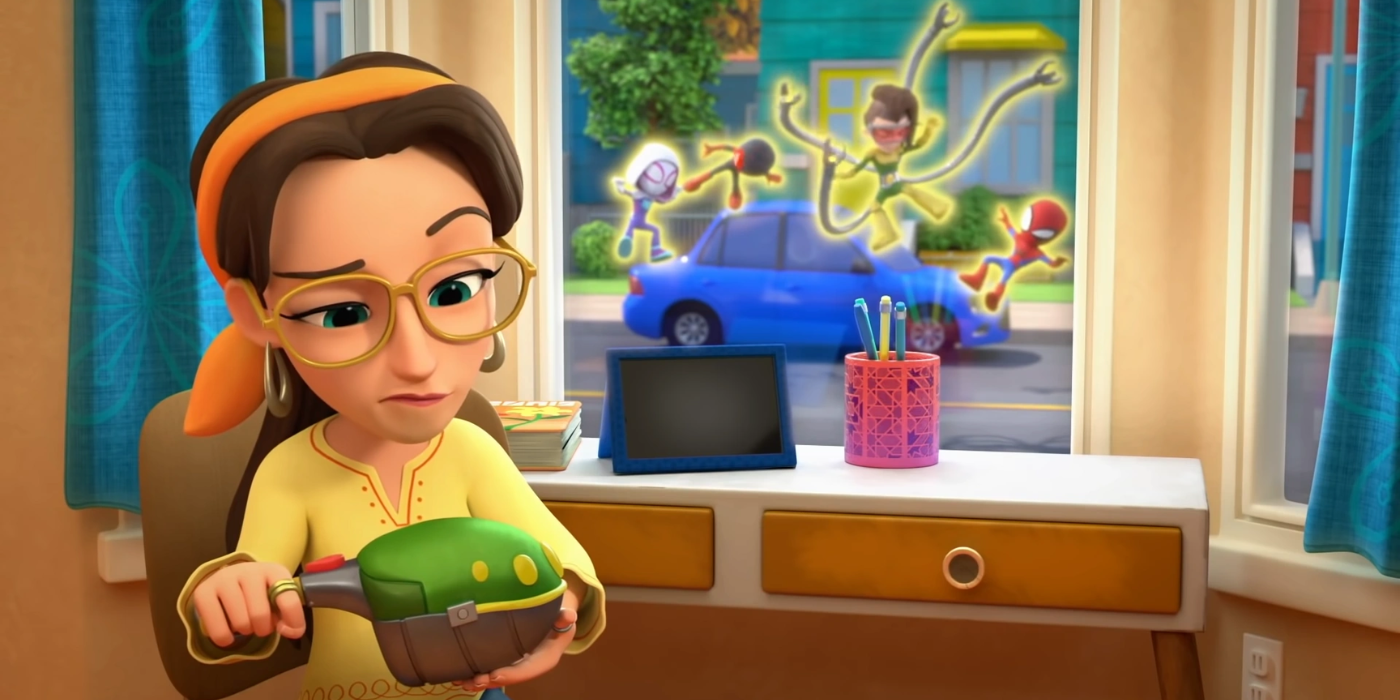 Like in past adaptations, Aunt May is Peter's legal guardian. She's much younger compared to past versions due to the core Spidey trio being children. Melanie Minichino is an actress who previously voiced on animated series like The Mr. Peabody & Sherman Show, TOTS, and the 2017 Spider-Man Disney show. She also appeared in episodes of The Marvelous Mrs. Maisel, S.W.A.T., and The Sopranos.
Eugene Byrd and Gabrielle Ruiz as Jeff and Rio Morales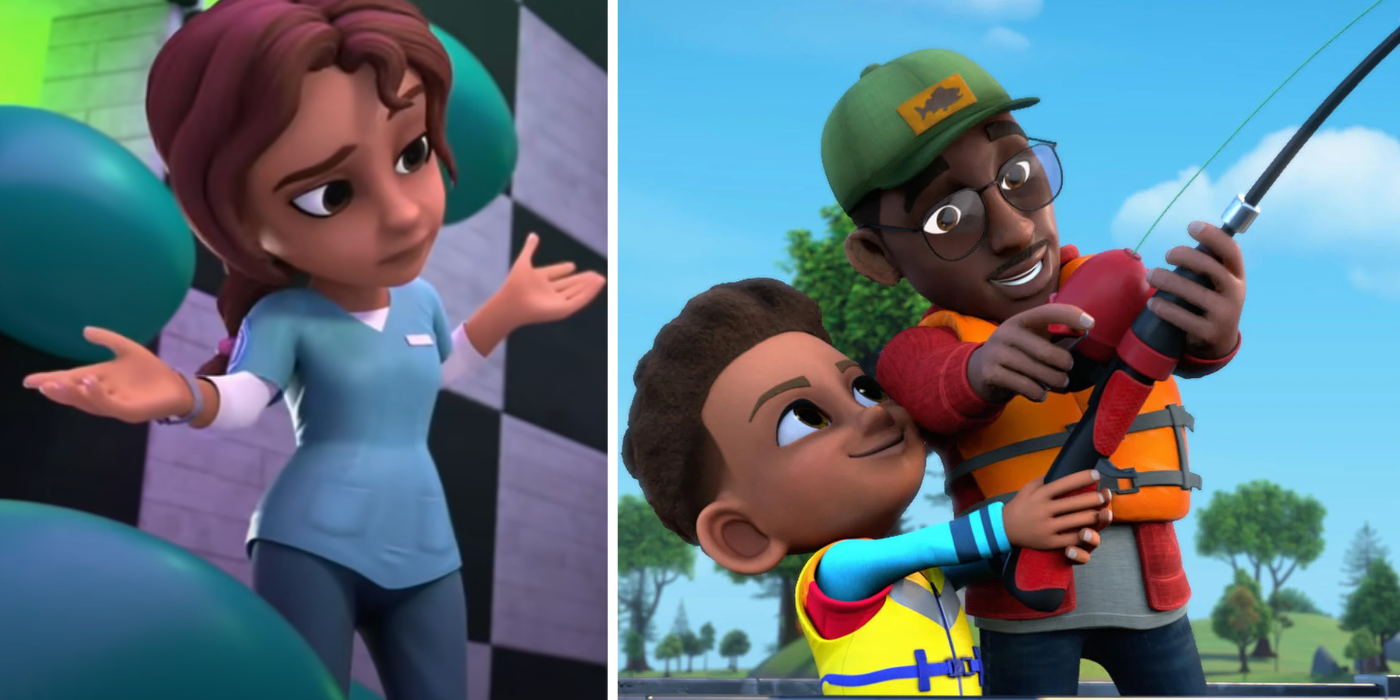 Jeff Morales is the father of Miles. Similar to Into the Spider-Verse, he's a police officer for the NYPD. Eugene Byrd is an actor who has appeared in TV shows including Secrets of Sulphur Springs, All American, and Bones. He also voiced in other animated projects like Lego Star Wars: The Freemaker Adventures, The Legend of Vox Machina, and Superman: Man of Tomorrow.
Rio Morales is the mother of Miles. She works as an ER doctor. Gabrielle Ruiz is an actress who played Valencia Perez in Crazy Ex-Girlfriend. She also featured in episodes of Modern Family and Law and Order: Special Victims Unit.
RELATED: Who Would Win In a Fight, Gwen Stacy or Kate Bishop? Hailee Steinfeld Decides
Kari Wahlgren and Scott Porter as Helen and George Stacy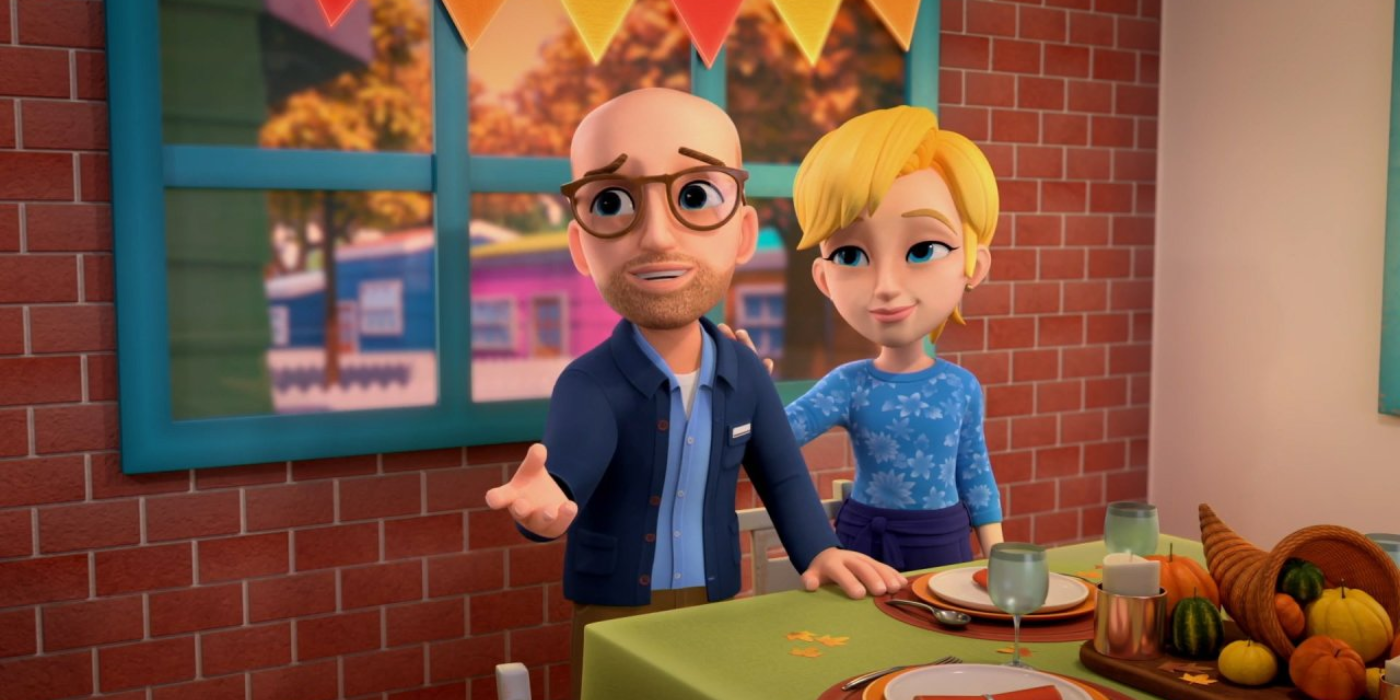 Helen Stacy is the mother of Gwen, and she works as a detective for the NYPD. Thankfully, she remains alive in this adaptation due to always being killed off in the comics. Kari Wahlgren is a voice actress who has built a huge repertoire of voice roles since providing the English dub of anime series like Mirage of Blaze and Witch Hunter Robin. She's best known for providing the voice of Jessica in Rick and Morty. Wahlgren has also voiced in other big animated properties, including Kung Fu Panda: Legends of Awesomeness, DC Super Hero Girls, and Carmen Sandiego.
George Stacy, Gwen's father, works at the NYPD as a police captain. Scott Porter is an actor who has featured in films like Speed Racer, Music and Lyrics, and The To-Do List. He also starred in TV series, including Ginny & Georgia, Hart of Dixie, and Friday Night Lights. Porter has also voiced in video games such as God of War: Ragnarok, Marvel's Avengers, and Batman: Arkham Knight.
Tru Valentino as T'Challa/Black Panther
T'Challa is the young king of Wakanda and the nation's protector as the Black Panther. He often must fight villains who try to steal the resource of Vibranium to build their own weapons. Tru Valentino is an actor who is known for starring in The Rookie. He has voiced in several animated projects, including The Cuphead Show!, Fast & Furious Spy Racers, and Madagascar: A Little Wild.
Sandra Saad as Kamala Khan/Ms. Marvel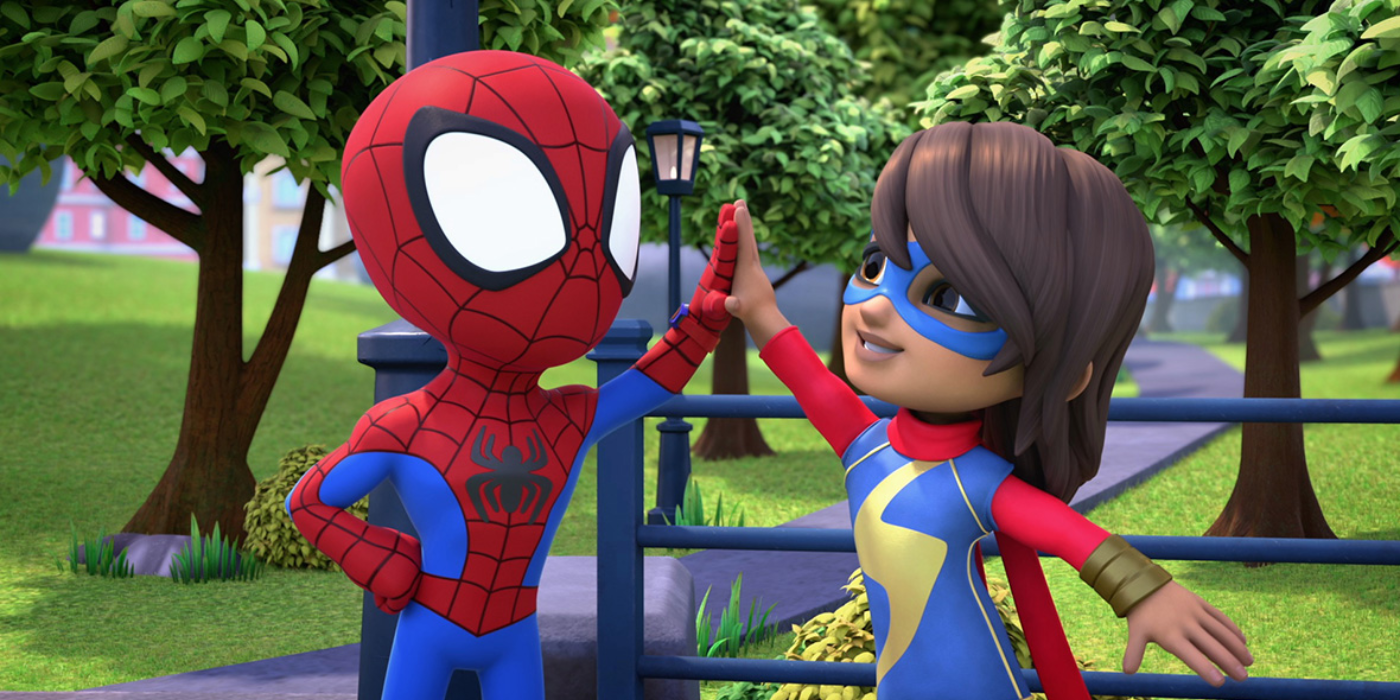 Kamala Khan is another kid superhero who goes by the name of Ms. Marvel. In tradition with the comics, her superpowers include being able to stretch her limbs like rubber. Sandra Saad is a voice actress who has worked on several video games including Call of Duty: Modern Warfare, League of Legends, and even voices Kamala Khan in the video game Marvel's Avengers.
Armen Taylor as The Hulk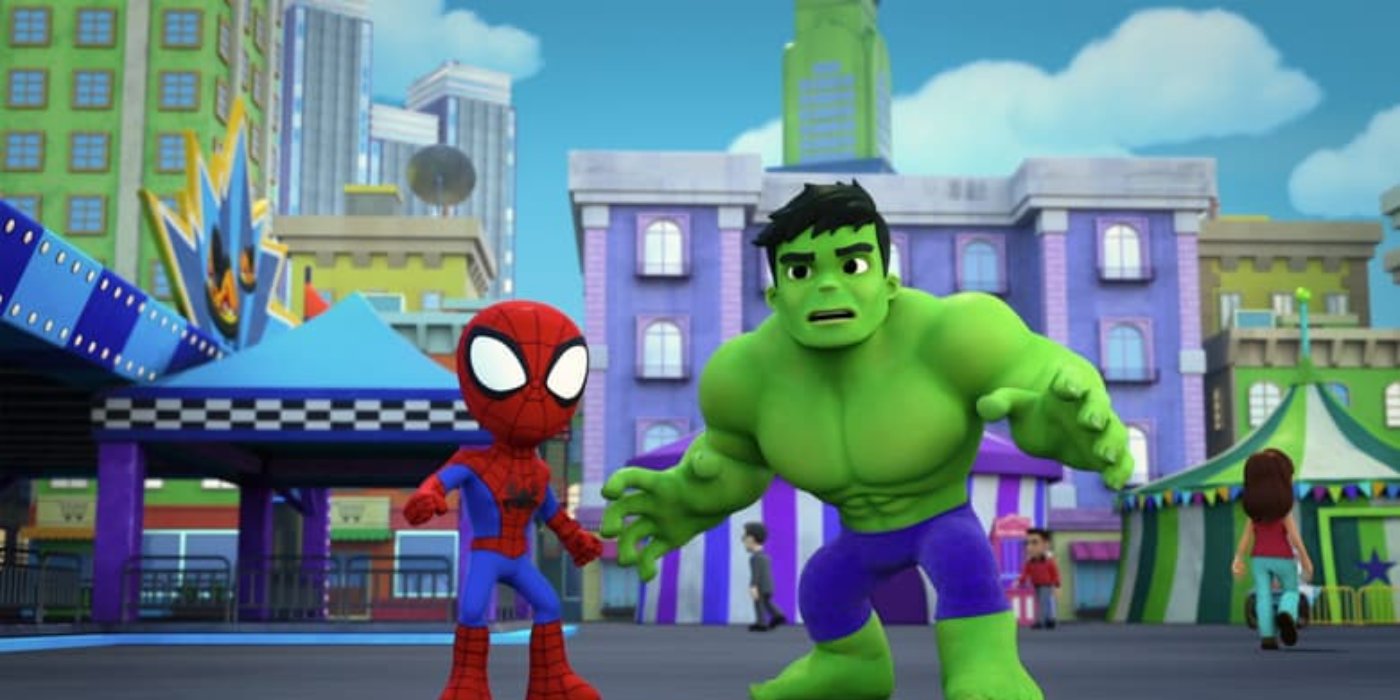 The Hulk is a young, giant, green humanoid hero with gamma-powered super strength. Unlike previous adaptations, the Hulk is more of a clumsy hero and hasn't been shown while transforming or "Hulking out." Armen Taylor is a voice actor who has provided the English dubbed voices for anime shows like Ghost in the Shell SAC_2045, Vinland Saga, and Hunter x Hunter. He also voiced in video games such as World of Warcraft, Hello Neighbor 2, and Diablo Immortal.
John Stamos as Tony Stark/Iron Man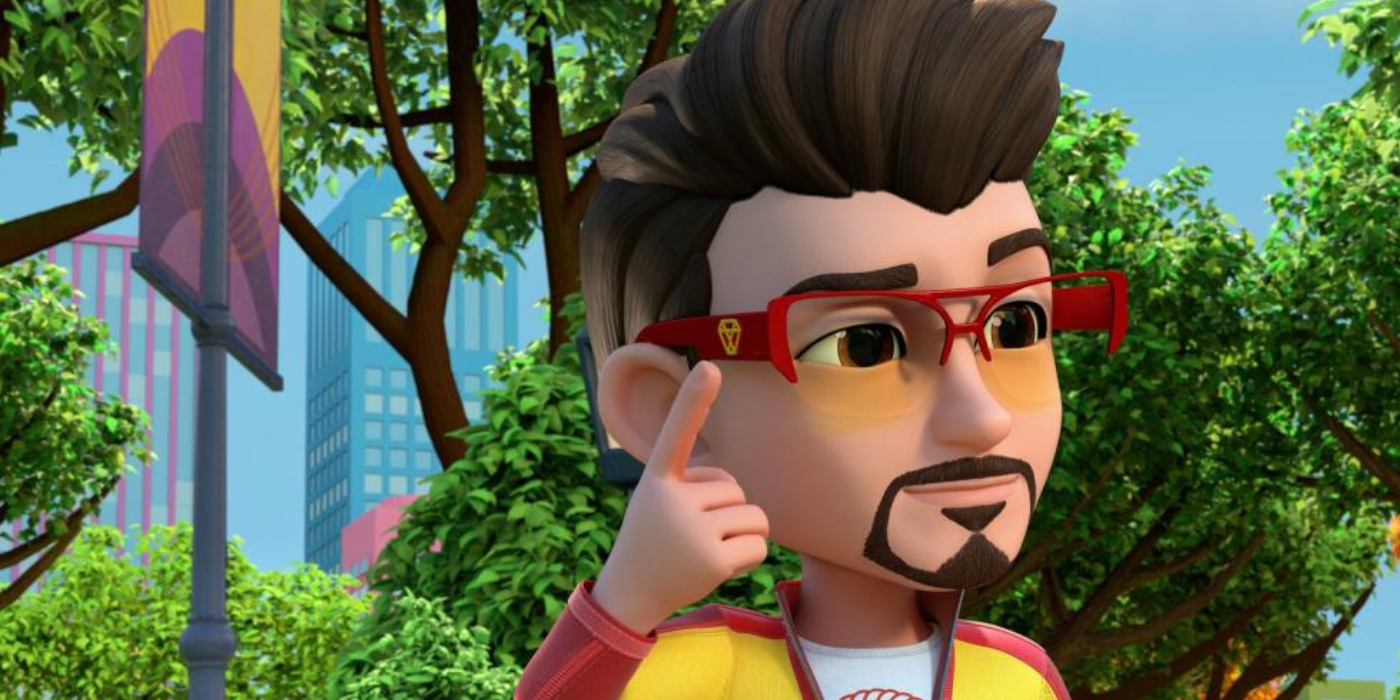 Tony Stark is a tech genius and billionaire who built his Iron Man armor. Like in the MCU, Peter is a massive fan of him, so Tony helps in teaching and helping him on missions. John Stamos is an actor who is best known for playing Uncle Jesse in the 90s sitcom Full House. He went on to star in other TV series like Thieves, ER, and Grandfathered. Stamos has voiced in other animated projects, including Mickey Mouse Funhouse and Harley Quinn.
Sean Giambrone and Maya Aoki Tuttle as Ant-Man and the Wasp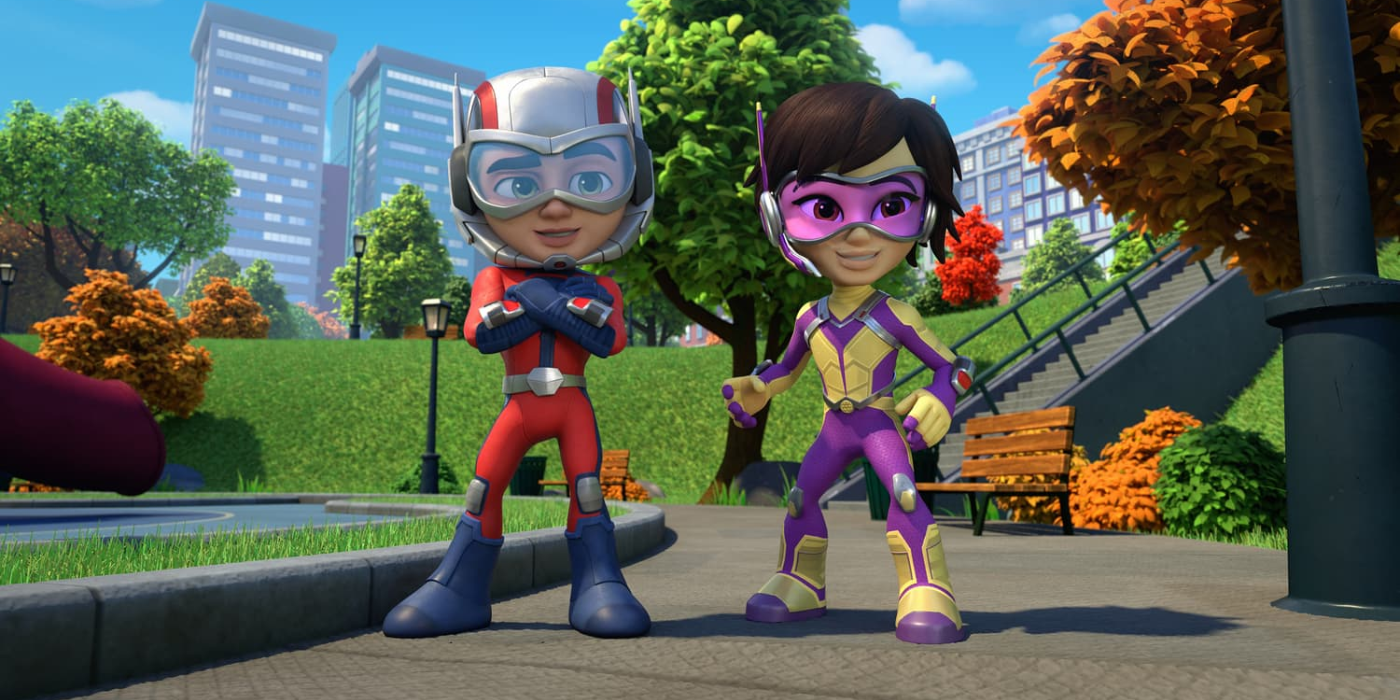 Ant-Man is the size-shifting superhero who partners up with Wasp. Sean Giambrone is an actor whose most popular role is Adam Goldberg on the TV sitcom The Goldbergs. His voice acting credits include Clarence, Solar Opposites, and Jurassic World: Camp Cretaceous.
Wasp is another superhero who can change to a big or small size like her partner Ant-Man. She can also fly no matter what size she is. Maya Aoki Tuttle is a voice actress who has worked on several video games, including Destiny 2: Lightfall, Marvel Avengers Academy, and the latest The Legend of Zelda: Tears of the Kingdom.
JP Karliak as Green Goblin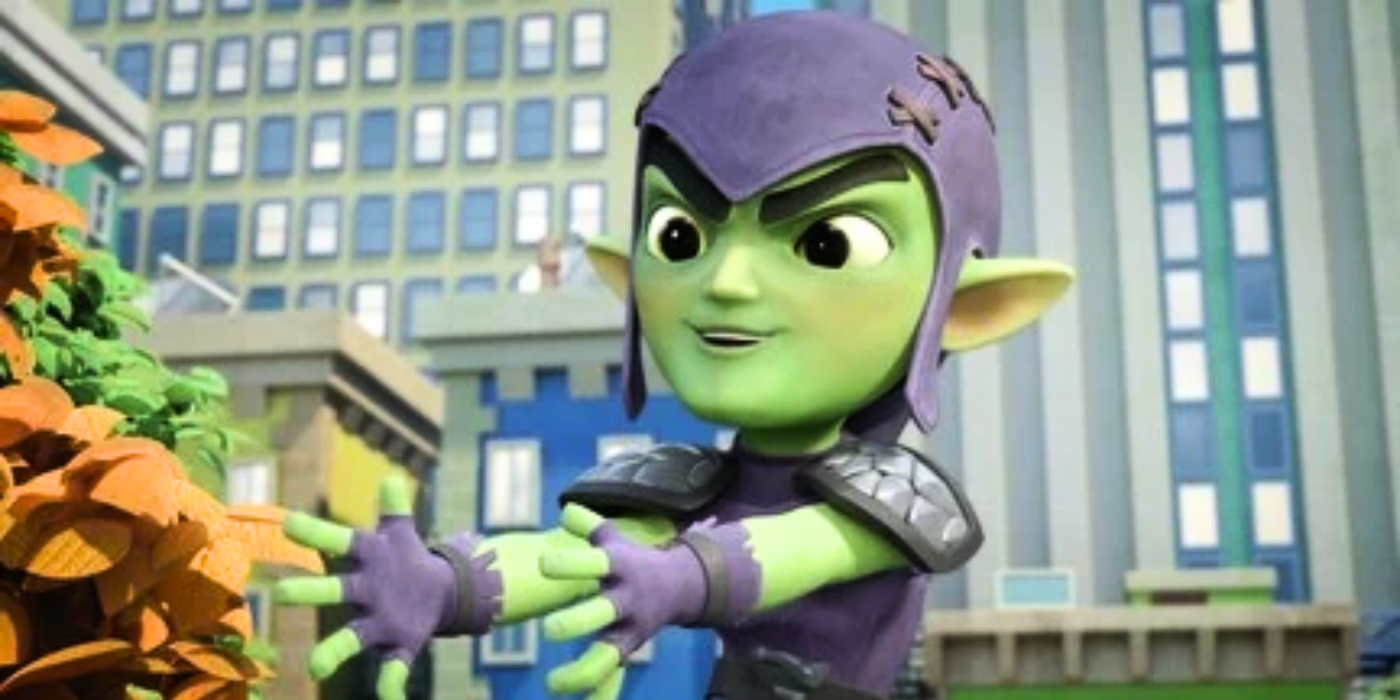 The Green Goblin is an iconic Spider-Man villain the Spidey trio often faces. In this version, he is a more chaotic and mischievous foe who enjoys seeing people in trouble. JP Karliak is a voice actor whose previous credits include Trolls: Trolltopia, The Boss Baby: Back in Business, and The New Looney Tunes.
Kelly Ohanian as Doc Ock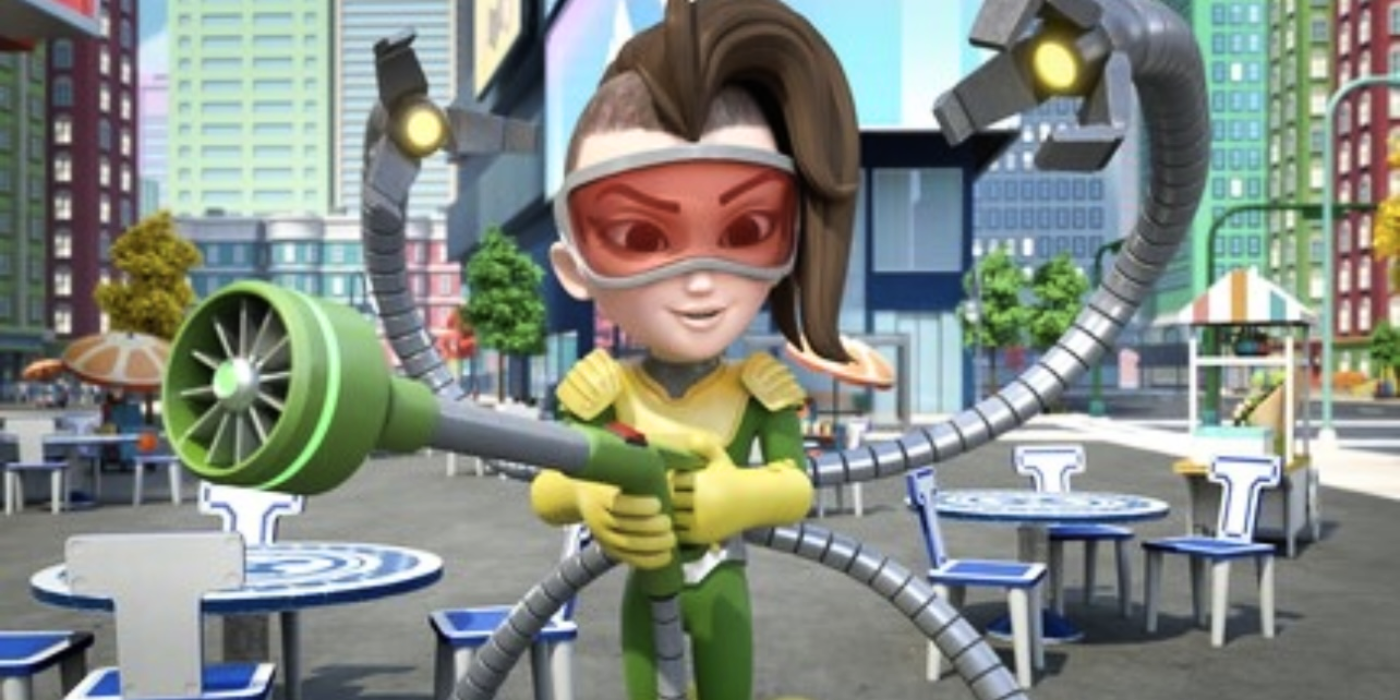 Doc Ock is one of the smarter and stronger criminals that fights against the Spidey team. Taking a page from Into the Spider-Verse, Doc Ock is a woman in this version who also builds machines like her mechanical tentacles. She also has little Octobots to oppose the Spidey team's Spider-bots. Kelly Ohanian is a voice actress who worked on video games, including No More Heroes III and Epic Seven.
Justin Shenkarow as Rhino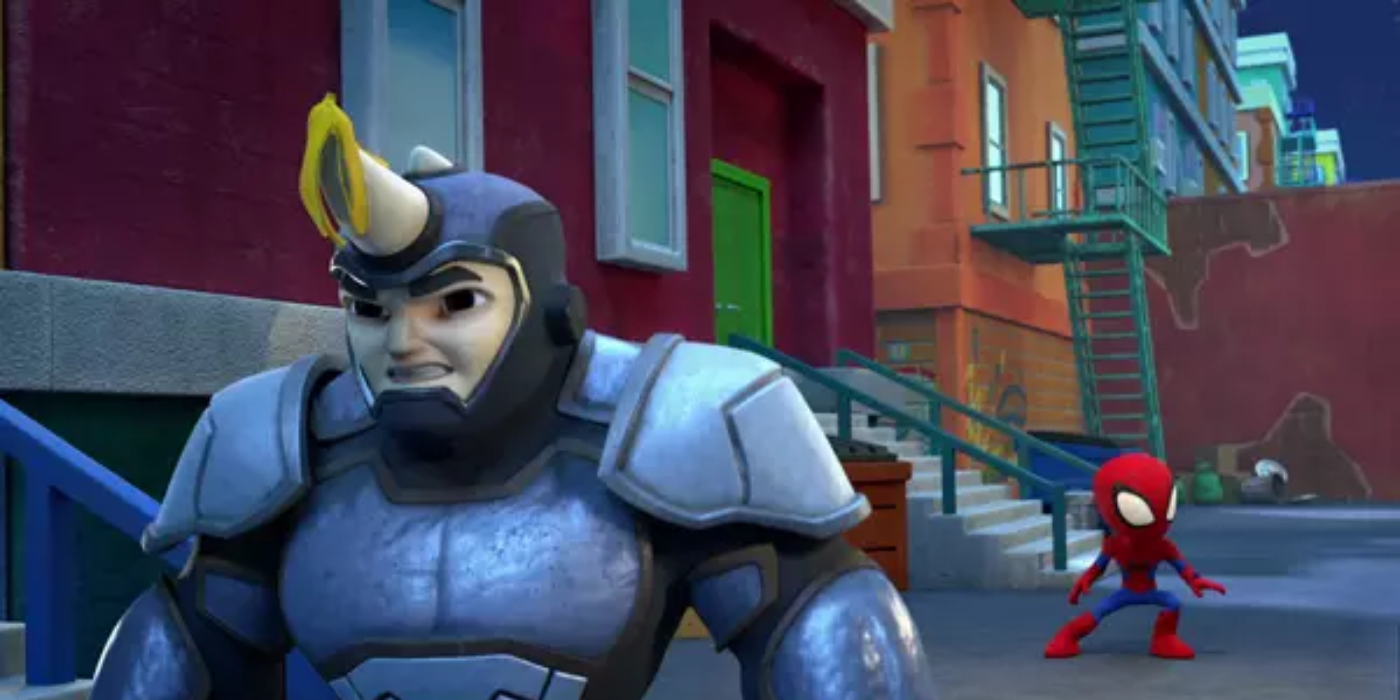 The Rhino is a supervillain with a lot of brawn but not much brain. He's often shown stealing gold or eating ice cream. Justin Shenkarow is a voice actor who starred in classic cartoons like Hey Arnold!, Lloyd in Space, and Recess. He also starred in TV series like Picket Fences, Eerie, Indiana, and Sons and Daughters.
Stephanie Lemelin as Electro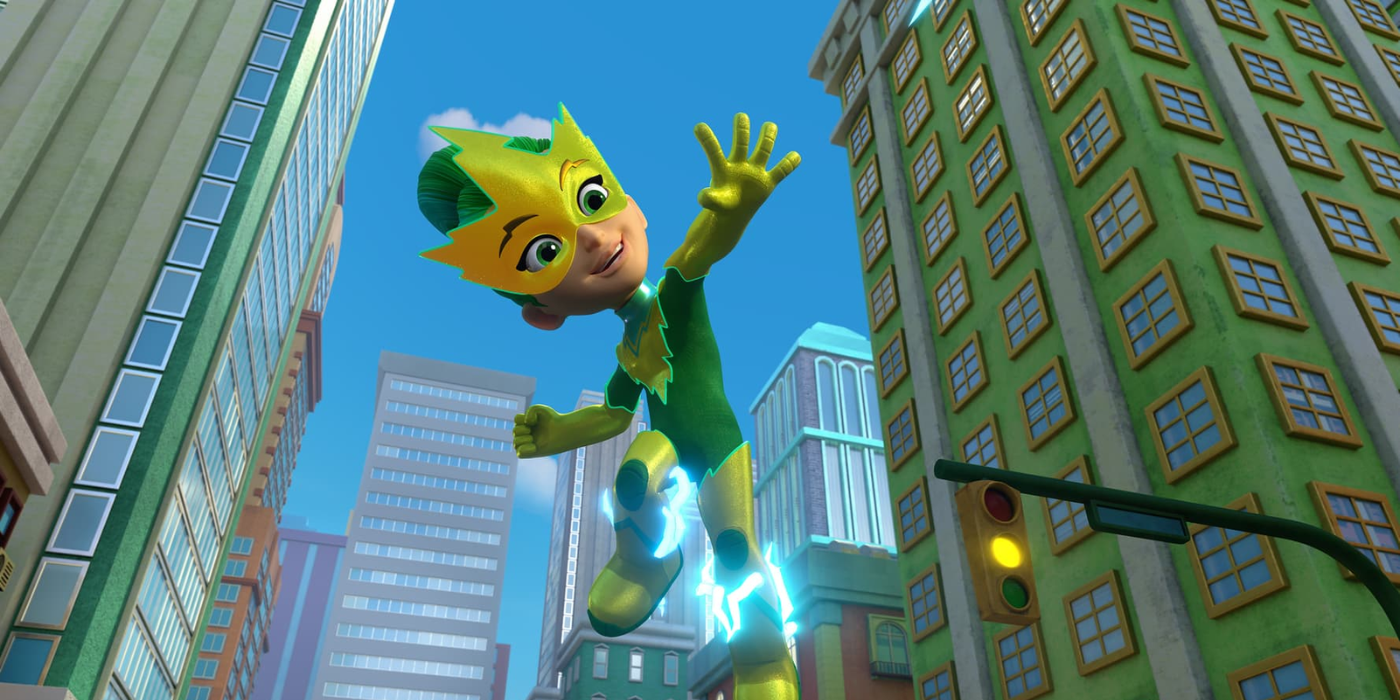 Electro is a villain introduced in the second season with abilities to manipulate and project electricity. She's also been gender-swapped in this iteration in comparison to the comics. Stephanie Lemelin has voiced in other animated series such as Young Justice, Dawn of the Croods, and Harvey Girls Forever! She also starred in TV series like The Whole Truth, Cavemen, and The Young and the Restless.
Jaiden Klein as Felicia Hardy/Black Cat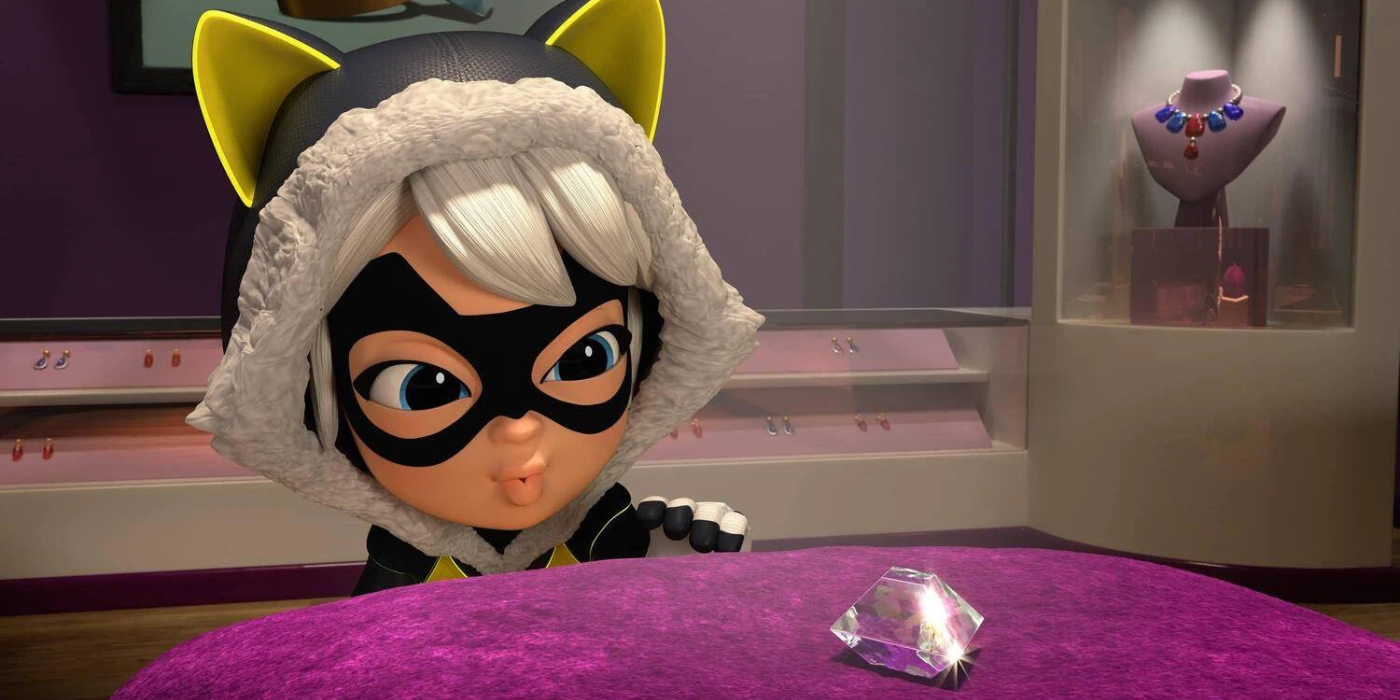 Black Cat is a young thief who gravitates towards stealing shiny things. She's more of an anti-hero who swings between committing crimes and helping the Spidey team. Similar to the comics, Black Cat develops a liking towards Peter. Jaiden Klein is a young actress who originated the Broadway role of Young Elsa in Frozen the Musical. She also starred in TV series like WeCrashed, and I Know This Much is True.
Tom Wilson as Sandman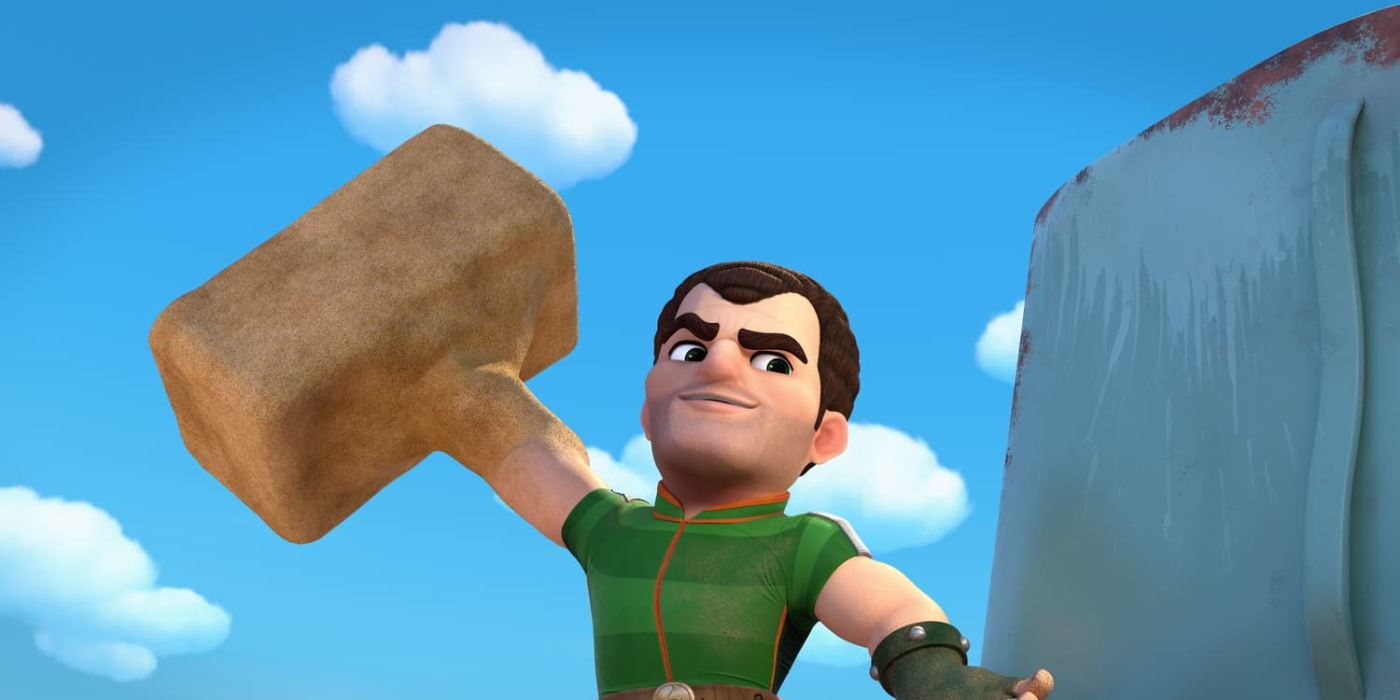 Sandman is another villain introduced in the second season who has the power to manipulate earth, especially in the form of sand. He's also a father Tom Wilson is best known for playing Biff Tannen in the Back to the Future trilogy. He also starred in films like The Heat, and TV shows like Legends of Tomorrow and Zach Stone is Gonna Be Famous. Wilson built his voice acting credits with roles like The Patrick Star Show, Pig Goat Banana Cricket, and Dragons: Riders of Berk.