The Little Mermaid is out and fans are all geared up for the new live-action feature. The movie is in line with Disney's attempt to adapt the classic fairytales for a modern audience and the feature has certainly updated many tropes, rightfully so. To celebrate the new release, Funko has unveiled new vinyl diamond glitter Pop! action figure of the movie's villain, Ursula.
The new Pop! takes on the likeness of actor Melissa McCarthy who played the underwater diva to perfection. Despite updating story elements, the broad story still remains the same, The Little Mermaid sees the youngest daughter of King Triton, saving Prince Eric and swapping her fins for legs with Ursula's help which will lead Ariel into trouble with her father.
Melissa McCarthy Is Perfect as Ursula in The Little Mermaid
The movie cast McCarthy in the role of one of the most iconic Disney villains, and the actor took inspiration from the real-life drag queens to bring Ursula to life. While the character's appearance is one thing, the actor-comedian also did amazing vocal work with her number "Poor Unfortunate Souls" thrilling fans across the globe. Speaking of her casting McCarthy previously revealed, "I don't know what lunacy went through my head, because I'm not known as a singer, but I just have always been so strangely in love with Ursula that I thought I can try and lose, but if I don't at least try for it, I'll regret it forever."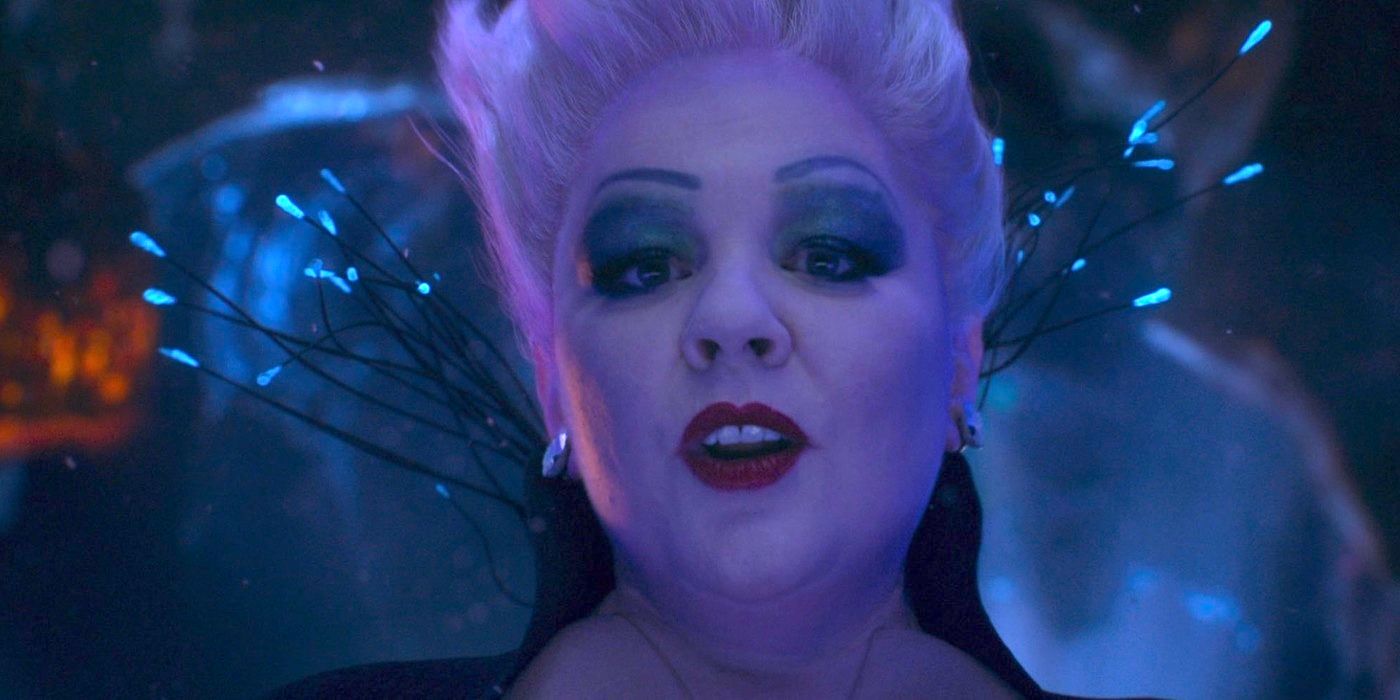 RELATED: 'The Little Mermaid': Melissa McCarthy Talks Channeling Her Inner Drag Queen to Play Ursula
The feature is directed by Rob Marshall from a screenplay by David Magee. Veteran Disney composer Alan Menken, who worked on the original film's soundtrack, returned to write new songs and compose the score. He's joined by Lin-Manuel Miranda, who also serves as a co-producer. The movie hits all the right notes of nostalgia, and music, and packs powerful performances, making it a watch for old fans and new.
The movie casts Halle Bailey as Ariel, Jonah Hauer-King as Eric, Melissa McCarthy as Ursula, Javier Bardem as King Triton, Noma Dumezweni as Queen Selina, Art Malik as Sir Grimsby, Daveed Diggs as the voice of Sebastian, Jacob Tremblay as the voice of Flounder, and Awkwafina as the voice of Scuttle. Further rounding the cast as the daughters of Triton (renamed for the film) are Lorena Andrea as Perla, Simone Ashley as Indira, Karolina Conchet as Mala, Sienna King as Tamika, Kajsa Mohammar as Karina, and Nathalie Sorrell as Caspia.
The new Ursula Pop! can be purchased here at Books-a-Million . The Little Mermaid is out in theatres now, and you can check out the new Pop! and the movie's trailer below: