To this day, no actor has won more Academy Awards for acting than the legendary and world-renowned Katharine Hepburn. Her whopping four Oscars for Best Actress fail to wholly measure the impact and influence she left behind. For one, Hepburn never won for her most iconic roles and films. Morning Glory, Guess Who's Coming to Dinner, The Lion in Winter, and On Golden Pond, the films which featured Oscar-winning performances, are not cinematic landmarks to the likes of Bringing Up Baby, The Philadelphia Story, and The African Queen. If the star ever needed another notch on her belt as a Hollywood giant, Hepburn's portrayal in The Aviator by Cate Blanchett amounted to the first and currently only time that an acting Oscar was awarded to someone playing an Oscar winner.
In Martin Scorsese's epic biopic of Howard Hughes (Leonardo DiCaprio), the eccentric and haunted filmmaking and aviation tycoon, the film documents his romantic relationship with Katharine Hepburn. Hughes is involved with many dashing female stars of the time, including Jean Harlow, Ava Gardner, and Faith Domergue, but the appearance of Hepburn in the film is the most noteworthy of the group, particularly because of the nuanced portrayal of her by Cate Blanchett. Her immaculate work on-screen, as well as the additional booster of playing a beloved icon, garnered her first of two Academy Awards. Blanchett's Oscar for Best Supporting Actress at the 77th Academy Awards cemented her as one of the finest actors of her generation. She would go on to win another Oscar, this time for Best Actress in 2014, in Woody Allen's Blue Jasmine.
RELATED: How an Actor Won Two Oscars for One Performance
Cate Blanchett Extensively Prepared To Play Katharine Hepburn in 'The Aviator'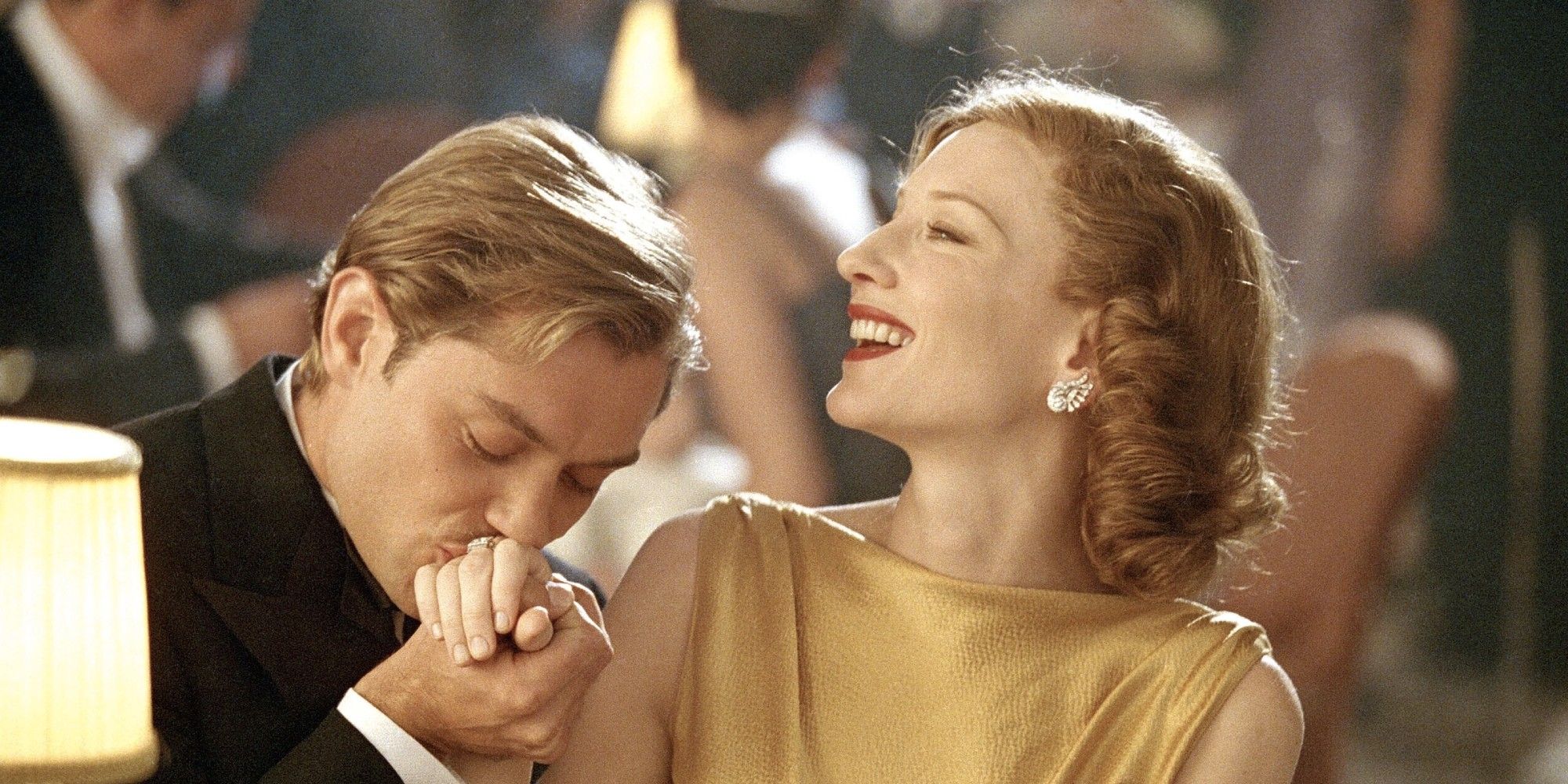 In The Aviator, Hepburn is introduced during the Golden Age of Hollywood, when the industry was in its infancy of adapting to sound. Aware of the ambitious heights that cinema is reaching, Howard Hughes is set on crafting his movies with realism through daring feats of filmmaking. While a charismatic visionary, Hughes is deeply affected by egomania, which is only fueled by a worsening case of OCD symptoms. After completing Hell's Angels, Hughes strikes up a relationship with Hepburn, who is still early into her stardom. She is a positive figure in his life, consoling him when he is overwrought due to his condition and professional perfection, and attracting good publicity for his filmmaking and aviation expeditions. Hepburn would eventually grow weary of Hughes' antics and neuroticism, leading to her newfound relationship with Spencer Tracy.
As common with many showy portrayals of real-life figures, Blanchett underwent steadfast preparation for the role of Hepburn. A native of Australia, Blanchett was faced with the near-impossible task of recreating Hepburn's distinctive, upper-class New England voice. The actor worked diligently to master her recognizable accent. She outlined her method forms of preparation in an interview with the Hollywood Foreign Press Association in 2004. To match Hepburn's athletic exuberance, Blanchett routinely played golf and tennis. Since Hepburn reportedly took cold showers, Blanchett did the same. These activities are demonstrative of a healthy kind of method acting. Under the guidance of Martin Scorsese, an obsessive cinephile and film scholar, she watched numerous Hepburn movies to best understand her speaking pattern and mannerisms. Scorsese even screened them for her on a big screen. The sincere admiration for classic Hollywood and Katharine Hepburn is palpable when watching The Aviator.
There's Criticism Surrounding Impressions of Famous People Receiving Academy Awards
The Academy Awards are often critiqued for their habit of awarding performances that resemble impersonation rather than performance, especially those of iconic real-life figures. Oscar-winning performances such as Rami Malek in Bohemian Rhapsody and Renée Zellweger in Judy fit this mold. There is a reasonable critical argument to be had that Blanchett's performance in The Aviator is an example of leaning on strong impression work instead of character immersion. Because her performance is aggressive in its recreation of all of Hepburn's ticks and fashion sensibilities, this conclusion is understandable. In some of her most charismatic showcases, such as when she is first playing golf with Hughes, the performance creates a sensation of Hepburn's screwball comedy screen persona traveling into the present day. In her acceptance speech on Oscar night, Blanchett stated "When you play someone as terrifyingly well-known as Katharine Hepburn, it's a collaborative effort." In this case, having support from a cinematic genius in Scorsese helps an impressionist performance on paper exist as a real person.
Cate Blanchett's brilliant performance in Martin Scorsese's film stands out from the bunch. She evokes Hepburn with warmth and vulnerability, which is effectively balanced by her expressive personality. Blanchett's dedication to learning about her career arc and coinciding evolution with Hollywood allows Hepburn to feel open and dynamic, even though she maintained a private personal life. In her interview with the HFPA, she claimed "I was trying to chart Hepburn's development into who we iconically know her as, which is when she hit the screens in Philadelphia Story." Pitting her against Howard Hughes, whose career and personal well-being would slowly spiral after their break-up, is smart character construction. In the film, Hepburn is not merely a device for Hughes' characterization, but in addition, she exemplifies the glowing aspirations of a once in a generational star.
Cate Blanchett's Three-Dimensional Portrayal of Katharine Hepburn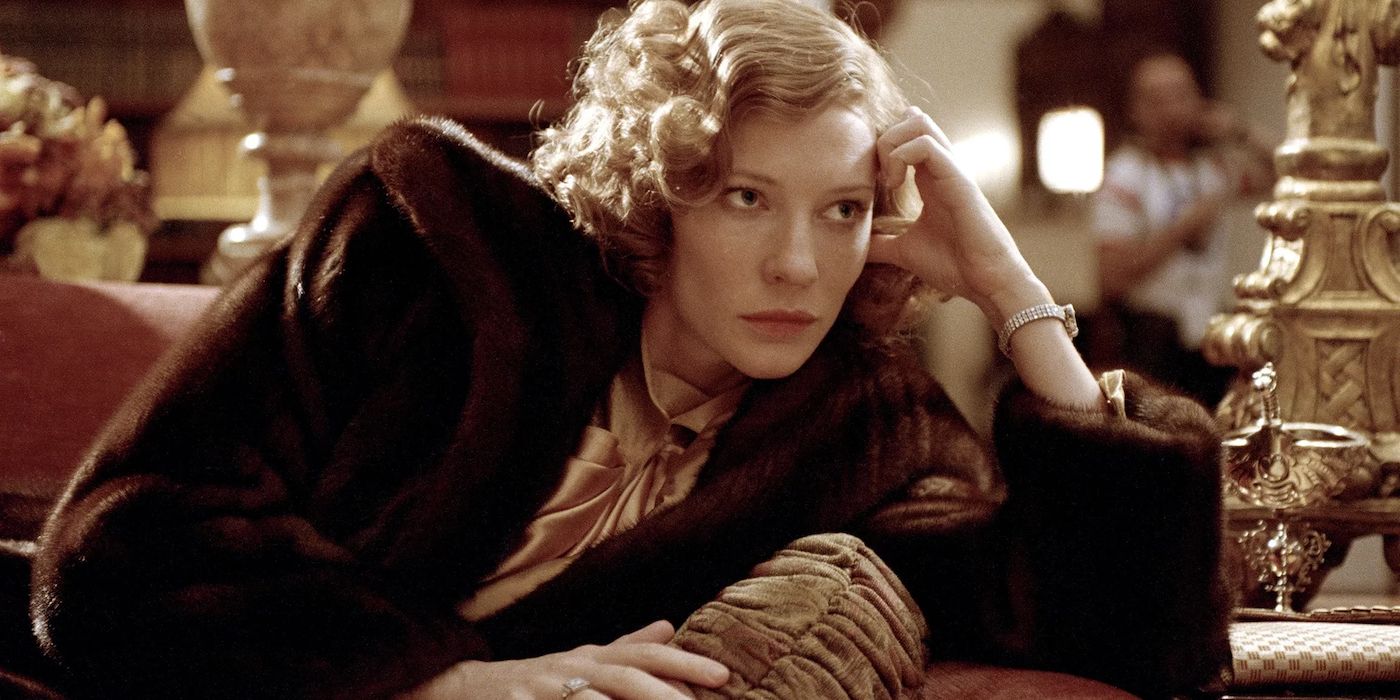 The depiction of Hepburn in The Aviator is an honorable tribute to a Hollywood icon and a fleshed-out character. Some of the high points of the film consist of DiCaprio and Blanchett, both deeply immersed in their historical roles, spending time together. The two have unmistakable chemistry, particularly exhibited in the scene where Hughes shows Hepburn how to fly a plane while in the air. In these moments when the two are at the nightclub, or when Hepburn is healing Hughes of his plane crash wounds, viewers forget that this is an epic biopic set against the backdrop of classic Hollywood. The Aviator is comfortable as a character drama, and that is thanks to Blanchett's Oscar-winning performance.
Cate Blanchett's win for Best Supporting Actress was a first in Oscars history, and the actor would go on to be nominated 6 times since, most recently as the titular lead of Todd Field's Tar. On the backs of first impressions, Blanchett's win and the existence of The Aviator are worthy of an eye-roll. One could claim that everything about it carries an aurora of self-important "Oscar bait." When observed carefully and with an open mind, her Oscar was well-earned, and not just on the basis of the Academy's desire to honor Katharine Hepburn. There will never be another Katharine Hepburn, but if anyone was going to reincarnate her screen presence in the 21st century, Cate Blanchett was worthy of the task.