Over the years, there have been countless adaptations of Shakespeare's work, but none have been quite as popular as Romeo and Juliet. The story of the star-crossed lovers has been told and twisted in so many different ways, that you would think it'd get old by now, but it surprisingly doesn't. When it comes to Shakespeare adaptations, everyone and anyone in Hollywood is running to get on board, and thus we end up with some seriously stacked cast lists. But the one with the biggest names in its cast may not be the one you immediately think of.
RELATED: 10 Best Movies You Didn't Realize Are Based on Shakespeare Plays
'Gnomeo and Juliet' Is Full of Unexpected Star Power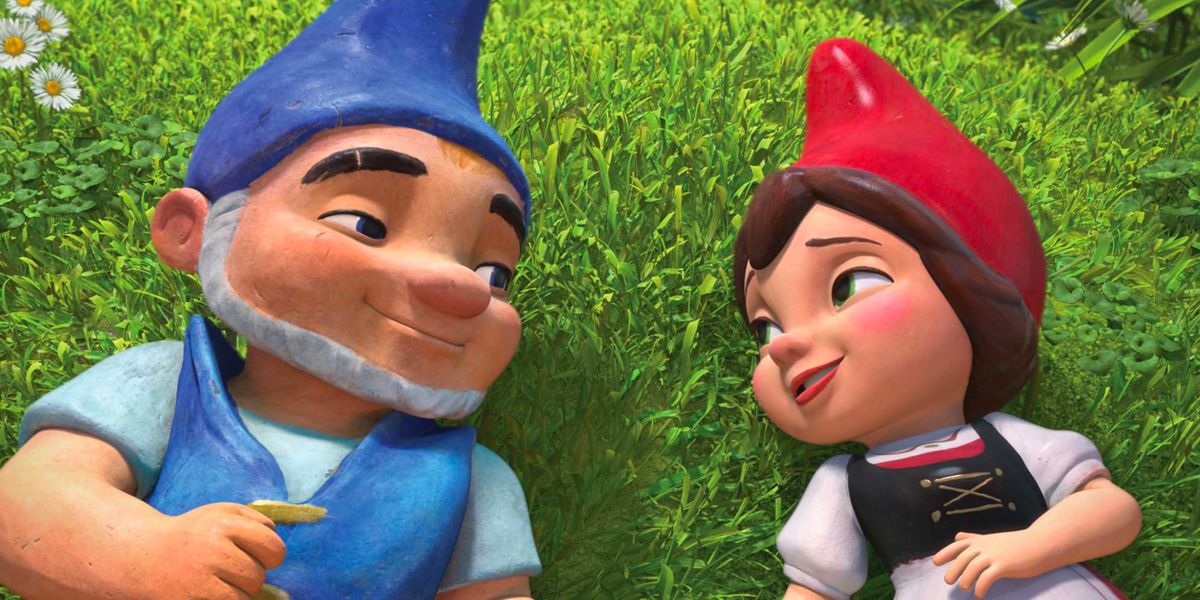 When you hear "Romeo and Juliet adaptation" and "star-studded cast" in the same sentence, your mind may go immediately to Baz Luhrmann's 1996 film Romeo + Juliet. After all, the adaptation features Leonardo DiCaprio and Claire Danes in the titular lead roles. It also features John Leguizamo, Paul Rudd, Paul Sorvino, and Pete Postlethwaite, just to name a few. So, Romeo + Juliet obviously does have some great star power, there's absolutely no denying that. But there's one adaptation that outshines it: 2011's Gnomeo & Juliet.
As bizarre as it may sound, and as surprising as it may be, this animated adaptation really does have a stacked cast! Gnomeo & Juliet is exactly what it sounds like, just more family-friendly, and y'know, with gnomes. Miss Montague (Julie Walters) and Mr. Capulet (Richard Wilson) are elderly neighbors who despise one another, and whose garden gnomes come to life whenever they leave. The blue hat gnomes take up residence in the Montague garden and are led by Lady Bluebury (Maggie Smith), while the red hat gnomes are in the Capulet garden and are led by Lord Redbrick (Michael Caine), and of course, they share the same feud as their owners. Gnomeo (James McAvoy) is the son of Lady Bluebury, and Juliet (Emily Blunt) is the daughter of Lord Redbrick, and as the tale goes, the starry-eyed pair fall madly in love.
Out of all the countless adaptations of this tale, this one is truly the most unique. Taking the original story and spinning it to be about garden gnomes in love? It's ridiculous and that's why it works. It separates itself from other adaptations while still being clear about what it is, and it also changes just enough bits and pieces to still keep the formula but tell a happier story. Unlike the original work, Gnomeo and Juliet don't die a tragic death in this, though there is a fake out when a lawn mower crashes into the tower they're in and seemingly kills them. They don't, of course, because this is a family movie, but the repercussions of what could have been finally reconciles the long feuding gnomes. And the cherry on top? Gnomeo and Juliet ride away happily on a lawnmower — what more could you ask for?
Aside from the film itself being a blast, the cast just adds an extra layer of greatness. James McAvoy, Emily Blunt, Maggie Smith, and Michael Caine are not the only A-listers — there are even more big names in the cast. Jason Statham plays Tybalt, Gnomeo's rival, and Stephen Merchant plays Paris, the gnome that was arranged to marry Juliet. Voice acting veteran Jim Cummings plays a plastic flamingo that is based on Friar Laurence from the original work. Kelly Asbury voices the miniature red gnomes who are servants to Lord Redbrick and are based on the characters Gregory, Sampson, Anthony, and Potpan. Matt Lucas voices Benny, Gnomeo's best friend, who is based on both Mercutio and Benvolio. Patrick Stewart even voices William Shakespeare himself! But that's not all, there are some serious wild cards thrown in the mix such as rock legend Ozzy Osbourne as Fawn, a miniature deer statue and Tybalt's best friend. Country music star Dolly Parton plays Dolly Gnome (obviously) and is the announcer at the lawnmower race. And perhaps the most bizarre of all is Hulk Hogan who is the unseen Terrafirminator promoter.
It's an unbelievable cast, between its sheer randomness and the way it balances all the different star power within. But it all works so seamlessly even if it doesn't seem like it would on paper. After all, it's quite a mixed bag with each actor known for different genres and styles, and even careers (looking at you, Hogan). Plus it opens up classic literature such as Shakespeare to younger audiences through animation, comedy, and bright colors. It's an all-around surprisingly solid film, and the diversity of its voice actors makes for a very colorful and fun watch.
'Gnomeo & Juliet' Has Elton John — Need We Say More?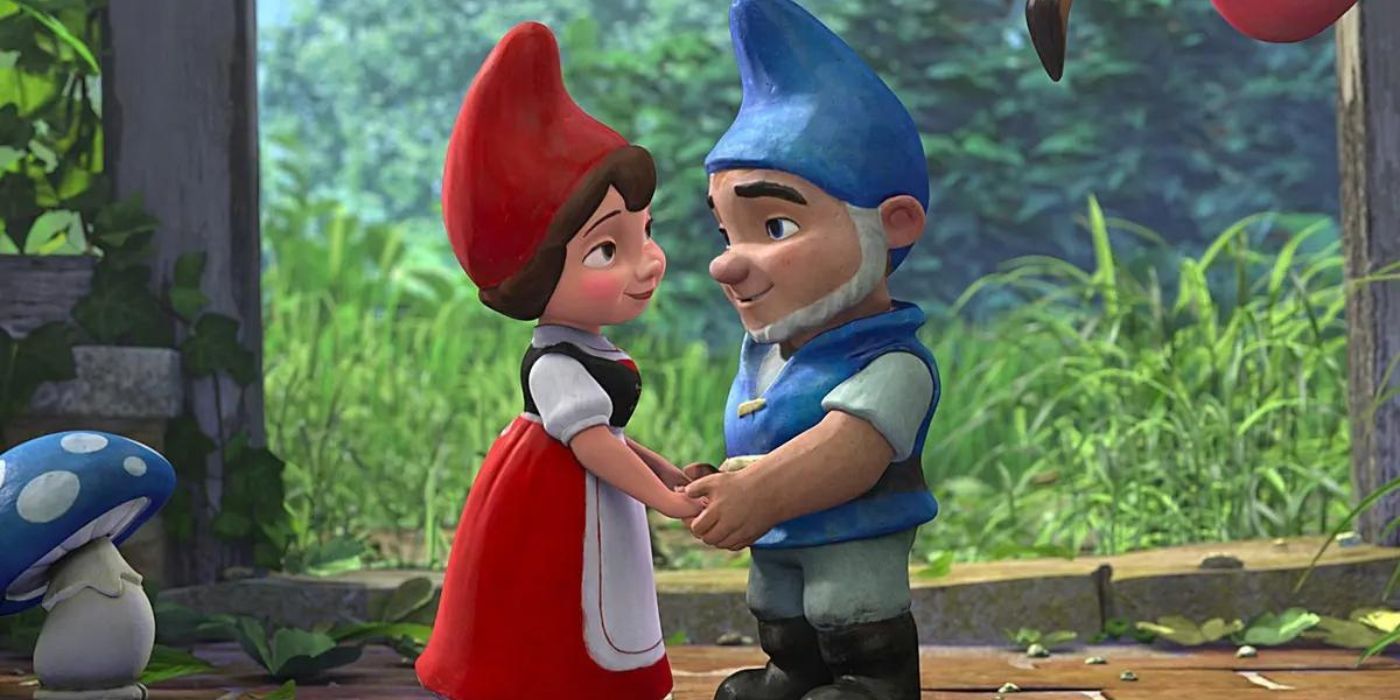 But there's still one heavyweight to mention: Elton John. Though he may not voice a character in Gnomeo & Juliet, John still played a huge part in it. The script was sold to Disney through John's film company Rocket Pictures, where it was greenlit by Disney studio chairman Dick Cook under Miramax. Even though Miramax was sold, Disney still had the rights to the film and released the film through Touchstone Pictures. Elton John acted as a producer for the film as well. But more than that, the soundtrack to the film is basically an Elton John musical — which is glorious. As well as the already released songs in his discography, John and lyricist Bernie Taupin penned two new songs for the soundtrack. The new songs are "Love Builds a Garden" and "Hello Hello," which is a duet with Lady Gaga. Gaga isn't the only duet though, as Nelly Furtado joins in on "Crocodile Rock."
Elton John's music is the cherry on top of the already great film and brings so much life to it. It shouldn't work as well as it does, but it just amps it up to greater heights. This film is seriously stacked with legends far and wide, and though it may not be the most faithful adaptation of Shakespeare's tale, it's certainly one of the most unique, and sometimes that's even better.